5 Mancave Decor Ideas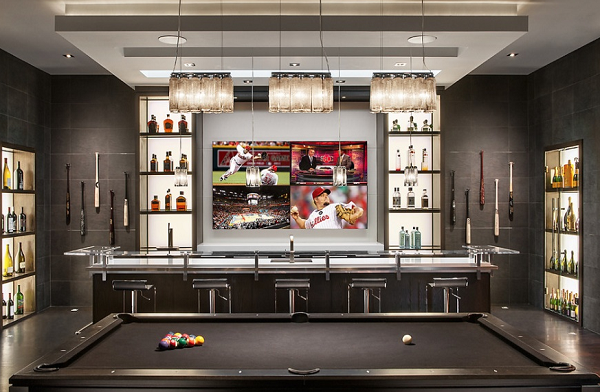 Mancaves can be designed to look just as stylish and inviting as any other room in your home, without losing your own personal touch. If you're a lover of the classic, rustic den vibe of traditional mancaves, here are 5 ideas to take into consideration during your remodel.
Canvas Prints
While there isn't nothing wrong with some fun, novelty art, there is nothing quite as cringey as a mancave taken over by neon signs and posters. Canvas prints are a great way of bringing art to your space, but in a more attractive manner. Compared to framed pictures or art, canvas does have a more unfinished or casual feel to it.
Going with traditional canvas prints of landscapes, historical sites or prints of classic art is always a visually pleasing choice, but don't forget you can have your own pictures printed as well.
If you have pictures of memorable events with family or friends you can have these custom printed on canvas of nearly any size.
Handmade Furniture
Sturdy, comfortable furniture is an absolute must in a mancave. When it comes to buying furniture don't waste your money on cheap particle board furnishings or uncomfortable seating. Wood furniture is the perfect choice for a mancave with a rustic theme, particularly Mission style Amish furniture.
Mission style furniture is not only beautiful and robust, but the dark stain of the wood allows it to match essentially any other decor you have going on. Not to mention that wood furniture can last for decades with proper care.
If you want quality there is little doubt that investing in Amish furniture is a smart way to go.
Reclaimed Wood Wall Panels
Wood goes perfectly in most mancaves but it can be tricky to incorporate without serious renovations. Thankfully reclaimed wood wall panels offer the perfect option of a semi-permanent means of installing a wood wall, without requiring construction to your home. Reclaimed wood walls are incredibly beautiful and can be found in a variety of styles, from fairly smooth, clear boards to old barnwood full of knots and character.
If you love a little bit of a cabin feel, one wall (or more) covered in warm, wood paneling is going to get you the look you want.
Coffered Ceilings
All too often the ceiling is ignored, despite it being a very important "wall" in your mancave. While you could always paint the ceiling, a must more interesting option would be a coffered ceiling. Coffered ceilings actually come in a variety of styles, from very modern right up to quite a rustic look. You can keep things basic with a contemporary coffered ceiling or go bold with exposed rough-sawn faux wood beams.
Coffered ceiling will also add value to your home and don't require a lot of intensive work. In fact, if you are fairly handy and have experience you and a friend could install a coffered ceiling kit over a weekend.
Hardwood Floor
When it comes to flooring you can never go wrong with hardwood, but for a mancave that gets alot of traffic you should consider an engineered hardwood. Engineered hardwood is real wood flooring, but better. While normally designed for commercial settings, this type of hardwood is great for a mancave attached to or part of a garage or workshop.
While normal hardwood flooring may end up scuffed or damaged from heavy work boots, rolling workbenches or tool carts, engineered flooring will still look great.
The idea that a mancave is something unkempt or outdated simply isn't true. By adding certain qualities to your room, such as investing in quality flooring or furnishing with real wood pieces, you can maintain an air of sophistication without losing the fun of having your own den to relax in.