Layering Vests and Shirts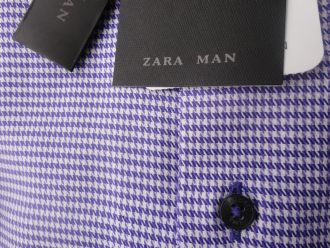 So I wore this really stylish combination at work today and I figured: why not talk about it?
Layering is a big unknown for most guys. It's a fancy name to something we already know how to do. Today I want to talk about one of those ways, and a really easy one at that. Plus, at the end you'll get a more advanced tip to really make this type of layering shine.
You will need:
1. A business/dress shirt
2. A sleeveless vest (not a waistcoat)
3. A jacket or blazer
4. a secret accessory whose identity won't be revealed until the end.
I'm not being secretive just to keep you interested. I first want to make sure you learn how to layer the vest properly. Adding that particular accessory at the end is gonna be a piece of cake.
Let's start off with…
The Shirt
If you don't yet have at least 2 or 3 quality cotton shirts to choose from, I strongly suggest you get some right now.
A solid white shirt will do but you can also mess around with prints such as stripes, checks or houndstooth.
I wore a purple and white houndstooth shirt myself, which constituted the innermost layer of my outfit. Here's a close-up of the print:
The Vest
A wool vest will keep your back warm during autumn and spring and will be the second layer of your outfit.
In my case, I chose this simple white vest (the photo includes a purple polo shirt, not the actual business shirt, though):
Can you guess why I chose it? That's right, it repeats the white on the dress shirt. Color repetition is crucial when you're layering, just as long as you don't overdo it.
The jacket
Although I wore this outfit at work, I broke the rules a little and, as my third layer, I chose a classic leather jacket instead of something more businessy, such as a sports jacket.
One thing about the leather jacket is that it matched the thin black stripes on the vest I forgot to mention. It looks like this (again, out of context as I don't have a pohot of the full outfit I wore):
And that's all there is to it. You have 3 layers, all comprised of garments you have or should have in your closet.
The secret ingredient
In my case, it was the tie. I chose a solid purple slim tie, that matched the purple on the shirt. That one particular detail made all the difference in the world.
The tie isn't a layer, obviously, but it is a great finishing touch. Remember that, if you'll be wearing a vest, you won't see it all of it, mostly the knot.