Panerai is High Fashion in Men's Watches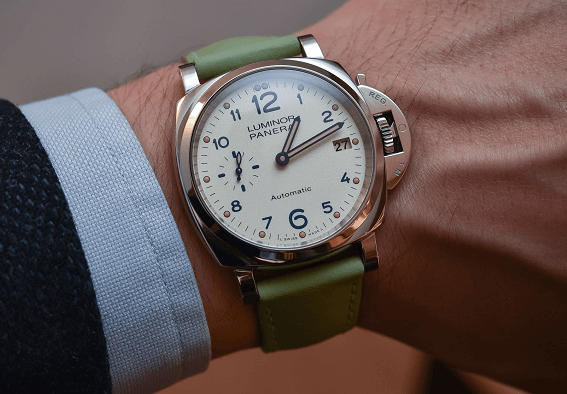 You may or may not have heard of the watch making company Panerai. Everyone deeply familiar with the watch industry and with men's fashion in wristwatches is going to tell you that Panerai ranks high in the luxury watch space. And not only that, but they carve out a unique niche all their own.
Founded in 1860 in Italy by Giovanni Panerai, the company still has its roots and headquarters in Italy, though the manufacturing plant itself is now located in Switzerland. Panerai watches were worn by the brave "frogmen" of World War II, and later were long used by members of the Italian Royal Navy. Their two top makes are called the Luminor and the Radiomir.
Panerai watches were worn by the brave "frogmen" of World War II, and later were long used by members of the Italian Royal Navy.
Despite their long history as a luxury Italian watchmaker, it was only in 1993 that these upscale watches were finally made available to the general public. For a time, Panerai was owned by Rolex SA, but today, they are fully independent.
The 6 main types of Panerai watch are as follows:
Panerai Luminor
Panerai Luminor 1950
Panerai Radiomir
Panerai Radiomir 1940
Panerai Luminor Due
Panerai Ferrari
But these can be grouped into just three mega-classes: Luminor, Radiomir, and Ferrari Panerai watches.
The Rare Ferrari
Between 2005 and 2010, Ferrari had a contract with Panerai wherein Panerai produced wristwatches with the Ferrari trademark on them. This was a somewhat rare collection of 11 specific models of watch, and today, they are worth anywhere from $5,000 to $30,000 each.
Like other Panerai products, they are solid, strong, and full of style. They tend to gain value over time if purchased and stored as vintage collector's pieces. But of course, who can resist wearing that rich Italian leather, feeling it around your wrists – instead of the much less romantic metal bands and clasps of most luxury watches?
The Radiomir
The Radiomir line of Panerai watches was long worn by Italian navy divers because of its patented substance (called "radiomir") that made the watch face visible and easily readable even in the dark, gloomy ocean bottom.
The Radiomir 1940 is especially well loved and in-style, but any of these models are quite impressive. Radiomir 1940 was released in 2016 and features a bright white dial, which was quite a shift since most Panerai watches have a dark colored dial. Radiomir 1940 also sported the first-ever automatic calibre for a Panerai watch.
This incarnation of the Radiomir broke tradition because white was thought off limits for Panerai watches. However, it has become a favorite over the last few years as it fits the bill as a true "dress watch." Other Radiomir models with their black or dark-toned dials, however, are still very popular as well – and either way (black or white), they match well with almost anything you want to wear.
As with other Panerai watches, you can easily switch out straps, which is something almost all wearers of these watches love to do. After all, who can settle for just one strap style when the leather is so richly toned and textured and amazingly unique?
The Luminor
There are several models of The Luminor by Panerai that are popular and considered very high fashion. First of all is the fantastically popular Luminor Marina, which is a simple and easy to find model that many see as an "entry level" Panerai. It is the "base model" that leads you on to explore other models later on.
The Luminor Marina has a sub-second hand, is very sturdily built, and is good up to 300 meters (1,000 feet) below the surface. If you want a trusty but stylish diving watch, this is it!
The Panerai Luminor Submersible 1950 is another great option. Its casing is 2 mm slimmer than the standard Luminor (at 42 mm diameter) and this is one of the keys to its popularity – it's less bulky to wear on your wrist. Those with somewhat smaller wrists especially tend to appreciate this model.
For the most advanced incarnation of the Luminor, look for the 1950 LAB-ID Carbotech. It comes with a 50 year warranty, needs no lubrication, and is quite large at 49 mm. But that's ok, because many who wear Panerai watches want a more rustic, nostalgic kind of look, but with high performance and a touch of style that makes it wearable on all occasions.
Making Your Final Choice
You will find a good amount of variety among Panerai watches, albeit it's a brand with fewer options than some other brands, like Rolex. That's because it's something of a niche brand that appeals strongly to a certain kind of personality, perhaps, or to all those who love Italian workmanship and Italian leather.
All Panerai watches are extremely water resistant and extremely tough. They last and they have class. Most have a dark face, but some have white and some even a see-through face that lets you watch the gears work. Take the time to explore your options via an online dealer and research out which Panerai watch may be the best fit for you!