Top Eco-friendly Items For Better, Healthier Sleep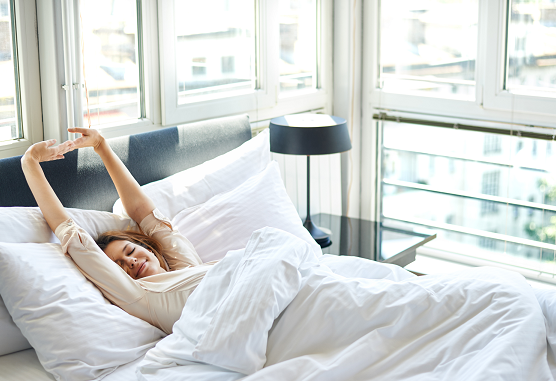 In our fast-paced society, getting the recommended amount of sleep needed for a healthy body and mind can be a challenge. The National Heart, Lung, and Blood Institute states that quality sleep "can help protect your mental health, physical health, quality of life, and safety." When it comes down to it, sleep is not something that should be limited in order to squeeze in more waking hours for work, play, or even relaxation.  There are many eco-friendly products on the market that will help boost your quality of rest and let you live an environmentally conscious life, both during your waking or sleeping hours.
If you find yourself struggling to get a healthy sleep schedule down, even after adjusting to a new nighttime routine, then perhaps a few eco-friendly bedroom items can help you catch more zzz's.
Kapok Pillow
If you're looking for something new to rest your head upon or to use as a hug pillow, then check out a kapok pillow that uses eco-friendly materials. Kapok pillows are made out of kapok fibers, which are very fine and comparable to that of cotton fibers. Kapok is made from a tree that is found in more tropical climates and produces a ton of fruit all year round. Each piece of fruit contains around 200 seeds which decay and grow quickly into new trees, making it a highly renewable resource. The fibers are soft, plush, and will give you great neck support and a restful night of sleep.
Bamboo Blanket
The image we usually get when we think of the word bamboo is the hard and tubular shoots that they grow into. However, there is a fibrous material inside of bamboos that can be made into comfortable cotton-like material that can be used for blankets. This type of material is easily cared for and is liable to remain soft and cozy for many years. It's also a good substitute to human-produced fabric and is completely eco-friendly, as bamboos are in abundance and are easy to produce more.
Natural Latex Mattress
How is sleeping on latex meant to be comfortable? It's actually constructed in a way that uses eco-friendly materials that are separated into different zones that provide 'pressure' in order to promote comfort. This was studied in the hopes of fixing latex's tendency to be unresponsive, which often makes movement uncomfortable. Natural latex mattresses are contoured to promote better and healthier sleep, as well as to be good to the environment.
Silken Pillow Case
If you're looking for something soft and easy on the skin, there are a variety of silk pillow cases available in the market. These silken materials can be easily mass-produced into smooth material. As you probably know, silk is a fiber that a moth larva produces while it's in the cocoon stage. There are manufacturers that breed these moths for the purpose of collecting the silk that they make. Of course, silk is 100% natural, which makes it very biodegradable and very eco-friendly.
Wool Comforter
 Although wool is incredibly warm, it can feel a bit scratchy, so add a thin layer of a natural silk sheet underneath and you're sure to catch some zzz's.
A nice little addition to your bed, especially in the colder months, is a wool comforter. The thick and plush material makes a good padding that allows for added comfort. It's made out the fine hairs that are extracted from animals, mainly sheep and goats. It's spun into a material that can be used for comforters, pillows, mattresses, and other bedding materials. Just make sure to choose a wool comforter from a company that promises to shear only from naturally-raised animals that aren't hurt or abused during shearing season.