How to Pull off double denim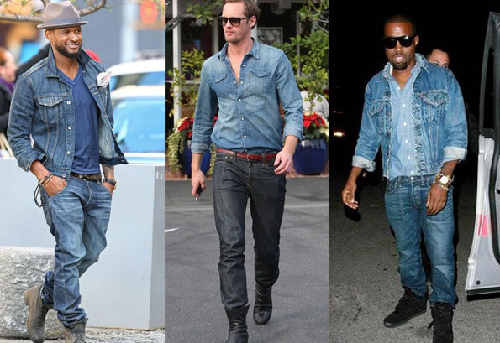 Ah, double denim. The look we all love to hate. But if Britters and Timberlake could pull it off way back in the year 2001 – that was 16 years ago by the way, wow – you definitely can too. Perhaps you could even convince your partner to give it a go as well?
So if you've decided to dabble in double denim, here's how to get the look all year round:
Don't double up shades
Refrain from wearing the same shade of denim on your top and bottom half, unless you want to look like you're wearing overalls akin to the kind Lennie adorns in Of Mice and Men – we're taking you way back to secondary school now – ensure you mix up the shades. And when we refer to denim, it doesn't just mean the blue variety. Black jeans and a blue denim shirt are a good combo, while white double denim makes a bold statement and looks great in the summer.
Darker denim on the bottom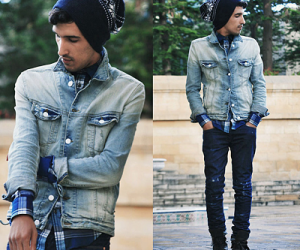 Always put the darker denim shade on the bottom, this ensures you avoid a 'top heavy' look and the slimming qualities of a darker denim on the leg still have effect even if you remove the denim jacket later.
Go for structure
It's a good idea to create a double denim look with a pair of fitted jeans and a structured jacket, you'll discover denim in shops all year round – if you're looking for something a little different, Superdry's denim biker jacket design is a great alternative style, from their men's coats collection. Denim is just as versatile as leather and considered a staple piece too, but be sure to choose a jacket with structured shoulders, a sharp collar and bold stitching to stand out against your darker jeans.
Always put the darker denim shade on the bottom, this ensures you avoid a 'top heavy' look.
Accessories are important
It's a good idea to break up double denim with some well placed accessories. This could mean a thick belt to draw attention to your waist or a chunky knitted scarf if you're heading out in a neutral colour.
Choose black denim for a safe option
If you want to create a double denim look, but are a little nervous about matching blue denim, go for black instead. Pair skinny black jeans with pointed ankle boots, a plain white t-shirt and a structured black denim jacket for laid back, rock star vibe. Finish off with a grey beanie and choose jeans with ripped knees for a more relaxed look.
Double denim? Triple is where it's at
Alternatively, if you want to push your style choices one step further you could opt for triple denim. A structured denim jacket over a lightweight denim shirt complemented by some fitted denim jeans is a stylish look that only the most confident of guys can pull off – check out menswear blogger Carl Thompson's post on how to put this look together.
So now that you have the know-how, it's time to grab that denim in the wardrobe and pull it all on at once, right?