What to wear to Wimbledon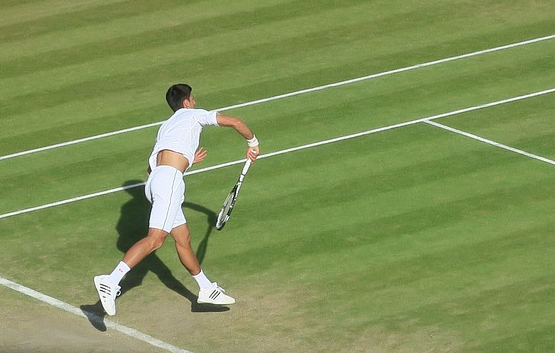 Wimbledon is in full swing and the parade of sharp suits and strong accessorising is in full flow. While players are expected to adhere to a strict all-white dress code, things are a little more informal for spectators, although visitors with Wimbledon hospitality packages to the Centre and Number One courts will be expected to look as sharp as Derek Blasberg, who was seen rocking an off white blazer in a trip to the greatest tennis tournament in the world.
The Wimbledon Centre Court dress code may have been relaxed in 2014, but the All England Club's idea of 'smart casual' does not extend to jeans or collarless shirts. You can forget trainers or flip flops too, although tailored shorts are permissible when the temperature rockets. Think breathable fabrics and sharp tailoring or relaxed shapes with a playful twist when you start putting together your Wimbledon outfit. Be prepared for any weather, so add smart accessories like a classic straw hat, stylish shades and an umbrella. Erring on the smart side of smart casual is definitely the way to approach Wimbledon.
The classic option
A well cut suit remains the default option for classy Wimbledon dressing. Just make sure it's in a suitable summer fabric like a cool linen-silk mix for great breathability. Pair with a crisp and classic white cotton shirt and then channel Stanley Tucci and add a knitted tie – striped for a casual summer vibe. Add a classic shoe worn without socks for a hint of the subversive or switch out the shirt for a crew neck tee and roll the jacket sleeves to get the Douglas Booth look.
The dress up to dress down option
When Tom Hiddleston hit the Royal Box last year in a razor sharp navy three piece suit and lighter blue striped shirt, he enhanced his reputation as a British style icon. Don't be fooled into thinking navy is a safe bet – Hiddleston's straw hat and open shirt collar made the look instantly fresh and modern.
The sharp separates option
A light blazer is a sound investment for the summer months. Team it with navy trousers, a cool and contemporary chambray shirt and loafer mules and you'll look effortlessly laid back. A subtly patterned tie is optional, but it works. Want to make the look work from your own wardrobe? Then pair a navy suit jacket and camel chinos with a white shirt and you'll channel David Beckham in the Royal Box.
The pastel option
Wimbledon is all about strawberries and cream and Pimms, so channel the pink and pastel palette for your Centre Court look
James Middleton has a great eye for pairing a pastel blue suit with a millennial pink tie, or opt for a pair of the white jeans that were big on the catwalk earlier this year. Going all-white may not be an option, but an off-white cabled cotton sweater or a sandy suit can have a big summer impact. Add the sharpest shades you possess and you're good to go.