Most Reliable SUV of 2017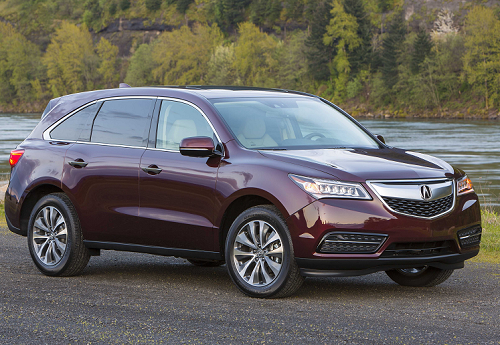 Choosing a new vehicle is no small feat, and once you've successfully selected your ride you want to be able to rest assured that it's a reliable vehicle that will stand the test of time and provide you with everything you need. From safety features to durability, makes and models vary widely on how reliable you can count on them to be in the long run. Reliability measures consider road test scores (ride, acceleration, fuel economy, noise levels, space, braking, etc.) and performance and problems of past vehicle generations.
Browse this list of vehicles for your next dependable ride.
Acura MDX SUV
The Acura MDX has a reputation for reliability. It's a three-row luxury SUV with a spacious, quiet and comfortable cabin that can seat up to seven passengers. The V6 engine provides smooth, sure acceleration and the optional SH-AWD system can enhance the handling and ensure the vehicle is stable and agile in all weather conditions. The MDX comes with several features and is offered in three trim levels, with an optional Technology package that contains a navigation system, Bluetooth, USB ports and adaptive cruise control. The backup camera and optional blind-spot monitoring, lane departure warning and upgraded lights all contribute to excellent safety ratings.
Subaru Forester
The Forester is an affordable option with excellent crash test ratings and top-notch safety equipment. It gets good fuel economy at an average of 26 mpg and provides a smooth, comfortable ride in a spacious interior. The Forester also comes with an intuitive infotainment and connectivity system that uses a well-functioning touch screen. Opt for the available EyeSight system and you'll also get forward-collision warning to further improve the safety of all your riders.
Nissan Murano
The Murano has a reputation as being a refined and luxurious SUV that still manages to be safety-focused and fuel efficient. It boasts an impressive list of safety features including Around View Monitor, a 360-degree imaging camera system that improves surrounding visibility and assists drivers in avoiding collisions. Technology abounds in the comfort features as well with "zero gravity" seats that provide a smooth and luxe feeling ride. The Murano was among the top 6 rated midsize SUVs in J.D. Power's 2016 annual U.S. Vehicle Dependability Study with both an overall quality rating and an overall performance and design rating of 5 out of 5.
Porsche Macan
The Porsche Macan is real luxury. It's a powerful, compact SUV with excellent handling and signature Porsche features including the seats, controls, finishes and high-end details. All-wheel drive comes standard and the Macan comes in a choice of three engines and five trims. With leather upholstery, precise steering and powerful acceleration, you can get your quality ride in a suave and sporty package.
The athletic performance of the Macan is coupled with solid reliability, making it a quality vehicle as well as a sophisticated one.
Lexus RX 350
The Lexus RX 350 ranks in the top-tier of luxury midsize SUVs and provides incredible value in its class. The 3.5 liter V6 engine is paired with an eight-speed automatic and the vehicle gets above average fuel economy on front wheel drive. The two-row SUV is known for solid reliability and a quality package of standard features including the Lexus Safety System which contributes to preventing potential collisions.
Audi Q7
The Audi Q7 is a luxury midsized/large SUV with a quality reputation amongst drivers. It received 10 out of 10 on Kelley Blue Book Consumer Rating and was tops among their consumer rated SUVs of 2017. The Q7 is a three-row model with a supercharged 3.0 liter V6 engine. It has an optional advanced safety system that includes automatic emergency braking and lane-keep assist. The ride in the Q7 is a comfortable, tranquil, luxurious experience. With effortless acceleration, a responsive and reliable handle and beautiful finishes on the interior, it's both a sophisticated and reliable vehicle.
Chevrolet Equinox
The Equinox gives great value at a relatively low price, quality interior and above average safety and reliability scores. It is a spacious ride for a compact SUV and comfortably seats 5, with a six-speed automatic transmission. The Equinox has consistently scored high on reliability and been top of its class in the past few years. In J.D. Power's 2016 annual U.S. Vehicle Dependability Study it scored 4.5 out of 5 for reliability and 4 out of 5 for both overall quality and overall performance and design and was among the top 6 of all vehicles.