2017 Men's Fashion Trends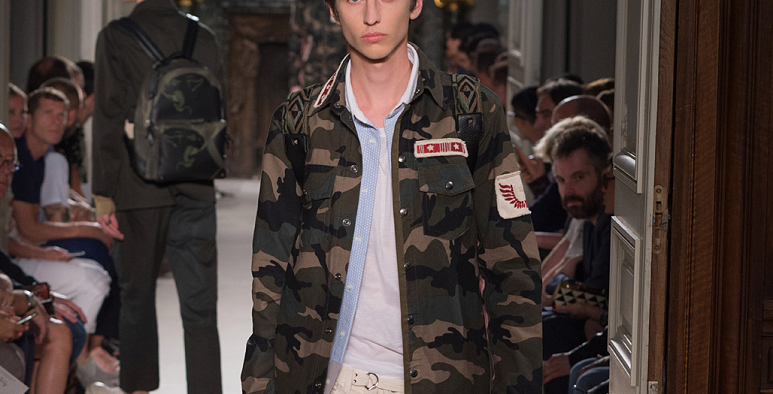 We're halfway through 2017. During the first half of the year, some men's fashion statements have already fizzled, while others have remained hot. Here's a sample of the trends that have emerged as fashion forerunners in 2017.
Camouflage is Hotter than Ever!
Camouflage has the distinction of being a fashion trend that simply won't die. In fact, it seems to get hotter every single year. It's hard to say if this is because it's something that compliments a variety of casual styles or as a nod of respect to the military is hard to say.
This year mega-fashion designers such as Dries Van Noten, Valentino, and Bottega Veneta have incorporated camo patterns into some of their men's lines and the fashion community has been eating them up! The hottest camouflage trend of 2017 is green designs.
Say Goodbye to Skinny Suits and Skinny Pants
Skinny suits always seemed like a questionable fashion trend. The fashion industry finally seems to realize that with the exception of the guys who actually work the runway, there simply aren't many men who can successfully pull of the look. The first fashion designer to really embrace the larger, more comfortable suit is Gosha Rubchinskiy, and more have begun creating suits that don't make it look like broad shouldered guys are trying on the clothes they wore in high school.
Suits aren't the only bit of men's apparel getting more relaxed, jeans and trousers are following suit. The preferred style for the lower half of the body is a looser fit and a hemline that hits the upper part of the ankle. Just make sure you're wearing nice socks and that your shoes are polished!
Some designers have started to dabble in the idea of high waisted trousers. It's difficult to say if the look will catch on in 2017, but trends indicate it will be hot in 2018.
When in Doubt, Go for Stripes and Checks
Both vertical stripes and checks have been making a slow and steady ascent into popularity, and now that it's 2017, they've become the stars of men's fashion. Checks look best when worn in a semi-formal or business casual setting, and can be worn as an outer layer (think checked sports coat) or as a shirt. Although most men prefer to keep the colors subtle when wearing checks, we're seeing bolder check colors and patterns on both the runways and red carpet.
When it comes to looking casual, you can't go wrong with some vertical strips.
When it comes to looking casual, you can't go wrong with some vertical strips. One of the most popular striped looks is a striped polo shirt which looks great in casual settings and can be easily dressed up when you want to go to something that's not quite t-shirt appropriate but doesn't call for a tie.
In addition to seeing vertical stripes on polo shirts and t-shirts, 2017 seems to be the year for vertical strips on the bottom as well, particular swim trunks and casual shorts.
The trick to wearing both vertical stripes and checks is to remain confident and not pair them with other patterns.
Finding the idea of trying to put together a trendy outfit that you can afford and that looks great when you wear it overwhelming. Let someone else do it for you. In exchange for a nominal fee, men's clothing subscription services, such as Five Four Club, assign a personal, fashion savvy personal shopper to you. Based on some key information you provide, they put together a fashionable, trendy outfit for you each month which is shipped directly to your front door. Staying on top of men's fashion has never been easier!
Chinos Make a Comeback
One of 2017's most surprising fashion trends is the return of the chino. These have turned into every man's go to pant. They're classy enough for special occasions, such as attending a friend's wedding, perfect for just about every work situation, and comfortable enough to wear during happy hour. The chinos that are most popular this year are relaxed fit, in pale, almost pastel colors. The trick is pairing them with a good belt, stylish shirt, and lighter colored shoes.