5 Fun Date Ideas in NYC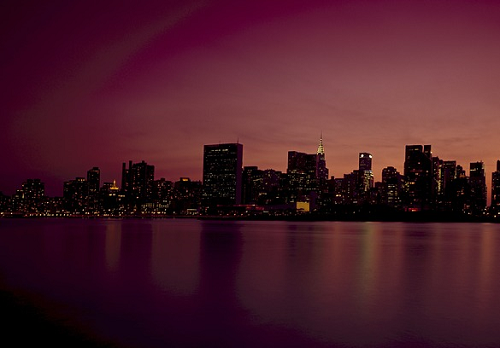 Thinking of date ideas can be tricky – especially if you're about to go on a first date and therefore don't know what he or she will enjoy. And while going for dinner or a drink is generally a safe choice, it can be a little awkward and often a little dull too. Especially if there's a lull in conversation! So, whether you're looking for a new way to spend date night in a long-term relationship, are a seasoned dater looking for love, or are someone who's new to the game and needs some pointers, here are five fun date ideas to consider trying in New York City.
1. Go for a late night cycle through Central Park.
While a coffee and a stroll through Central Park is the perfect way to spend a first date (it's informal, relaxing, and you don't have to make too much eye contact at a stage where you barely know each other), it's not tons of fun is it? Well, step it up a gear with a memorable date night spent beneath the stars. Hire bicycles (or bring your own) for a ten mile ride through Central Park beneath the cover of a starry sky – the ride starts at Columbus Circle at 10pm and generally finishes at around midnight. It doesn't cost a dime if you have your own wheels, and it's romantic and quirky enough to guarantee you'll get a second date if sparks fly.
2. See a Broadway Show
If you'd like to take your date somewhere fun with a sense of occasion, how about booking tickets to a Broadway show? There's nothing quite like the excitement you feel as the lights go down and the curtains draw up – perfect if you want your date to associate hanging out with you with a great time and giddy anticipation! But, to guarantee it's a great date, make a point of avoiding a performance they might have seen before, choosing a show that's just opened instead. Or, to show your good manners, ask them what they'd like to see and book tickets for a show you've both chosen.
3. Throw caution to the wind with dueling pianos
Get to know your date's personality quickly by taking them to the Green Room on a Saturday night. It's home to two mind-blowingly good pianists, dueling it out with a set chosen entirely by the audience. The musicians play chart music, rock classics or anything else the crowd demands, and all they ask in return is that you dance along and sing your heart out.
It's the perfect first date idea if you want to throw caution to the wind and show your date exactly how bad your moves are, and for long-term couples, it's a great way to let your hair down and dance the night away together again.
4. Kayak down the Hudson
For something a little more serene, how about taking your date for a paddle down the Hudson? You can hire a kayak for outstanding views of New York City after taking free or expert lessons to ensure you know what you're doing. It's a great way to spend some quality time together, but just bear in mind that this date idea is probably best for those on their third or fourth date, or long-term couples… there'd be nothing worse than being stuck in the middle of the Hudson with someone there's just no chemistry – or conversation – with! If you fancy it, you can enjoy free kayaking from the Downtown Boathouse.
5. Learn some drunk history
If you love the 'Drunk History' TV show (or think your date might), head to The Bedford for a hilarious night of alcohol and history. The Society for the Advancement of Social Studies organizes for experts to deliver lectures on various eras of history, with a catch – the lecturers are totally, totally inebriated. It's side-splittingly funny, smart and unlike anything else your date is likely to have experienced before, so go along to the free lectures on the first Tuesday of every month to learn something new in a way that's strangely memorable.
Will you be trying any of these date ideas?