Good polos and bad polos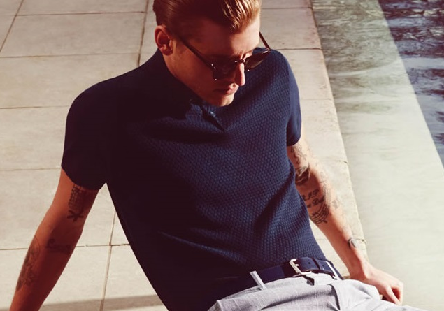 As much as I would like to see guys wear dress shirts, most of them are still clinging to their old t-shirts. So I'm calling a truce: how about you switch to polo shirts for a while and then, once you're comfortable with those, you can transition to the almighty shirt?
Now, there are good polos and bad polos.
Bad polos:
– are made of synthetic fibers
– the don't fit you perfectly (most guys wear stylish mens golf shirts and polo shirts that are 2 sizes too big for them).
– have logos on them or weird color combinations, such as a single stripe that runs across the chest
Now, I want to talk with you about this last issue. A single stripe across the polo or some geometric form on one side of the chest makes the garment look too sporty and, thus, less stylish. I would avoid these types of golf and polo shirts altogether.
Instead, focus on polos that are either in a solid color or have uniform horizontal stripes across the body.
Recommendations: you've basically got two options. You can either go to your local mall and take each store one by one, try on all the polos you can find. The second option is to shop online, but this is tricky.
You can try these golf shirts from Oakley, for instance, but you gotta know your measurements. The upside is that you can shop from the comfort of your own home and you can choose from dozens and dozens of models. That's something you can't do in stores, where the stock is limited.
The downside, of course, is that you risk ending up with something that won't fit you. So here's my recommendation if you decide to shop online: get something that you're SURE will fit you, even if it's a little too big. Then pay a visit to your tailor and have it adjust it to fit you like a glove. You should visit your tailor to adjust most your clothes anyway.
Good luck!