Super Bowl LII: Food, Drinks and Cocktails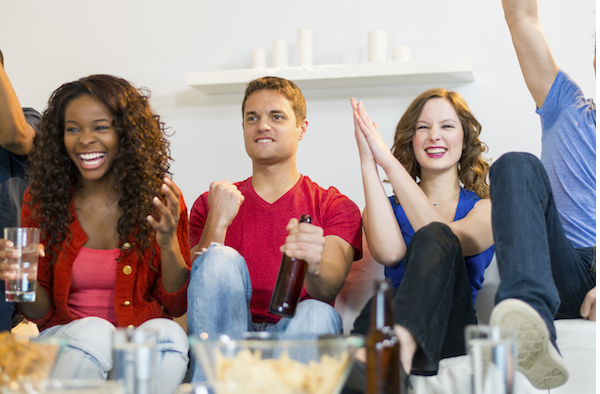 With the Super Bowl less than two weeks away, people are already making plans on where to watch it and what to eat and drink. Most of us are in colder climates, (especially those in Minneapolis for the game),however you can escape to warmer place by either creating your own cocktails or buying them pre-made.
Game Cocktails: Recipes
Topsy Turvy (by Jeremy Oertel)
This cocktail features a liqueur made from real coffee so you can finish the game with as much energy as you started.
2 oz Carpano Antica Formula
1 oz Lock Stock & Barrel Rye 18 Year
1 tsp. Borghetti Coffee Liqueur
1 dash Mole Bitters
Method: Stir, Strain
Glass: Nick & Nora
Garnish: Orange Twist
Jet City
2 oz Templeton Rye 6 Year
.5 oz Fernet-Branca
1 bar spoon Coffee Syrup
3 dashes Scrappy's Orange Bitters
Method: Stir & strain into a large rocks glass over ice. Garnish with an orange twist.
Half-Time Show (Greg Mayer of Academia in Austin, TX)
This cocktail features a MVP Vodka, launched by two former football pros, and is a lively drink to enjoy during the always-entertaining halftime show.
1.5 oz MVP Lemonberry Vodka
.75 oz Lemon juice
.25 oz Real cranberry juice
.50 oz Aperol
.50 oz St. Germain Elderflower Liqueur
2 Mint leaves
Method: Combine all the ingredients in a mixing tin and shake vigorously until properly diluted. Strain the cocktail using a Hawthorne and fine mesh strainer into a coupe glass. Garnish with a fresh sprig of mint.
Smoky Eagle
2 oz Crystal Head AURORA
4 oz Lemonade
3 oz Fever Tree ginger beer
Smoked orange wedges
Method: Add Crystal Head AURORA, lemonade, and smoked orange wedges into a shaker with ice. Shake very well then pour into a tall glass
Game Cocktails: Canned
Not looking to whip up cocktails on the fly? Save your energy for sweating it out over the game and chill these canned cocktails. Easy, tasty, and arguably better than beer (for some!) These cocktails in a can are sure to keep the fun going and are easy to dance with during that Half Time show!!
Slow Low Rock and Rye 100ml Cans ($4.99 per can)
The Slow and Low 100ml can is the next step in the evolution. Cooper Spirits took a proper 84 proof bar cocktail using a historic recipe and is not only introducing it in a different vessel, the can, but is doing so in a portable, convenient and novel size. Perfect for your outdoor pursuits, from camping to BBQs to sporting events, tailgates and concerts, the 100ml can is versatile and makes for just the right sized packaging.
Half-Seas Cocktail Cans ($16-20 per 4-Pack)
Half-Seas offers elevated versions of the canned cocktail, available in Daiquiri, Paloma and Bramble. These all-natural, effervescent cans are as stylish as they are delicious.
Novo Fogo Sparkling Caipirinha ($3.99 per can)
Novo Fogo, a USDA-certified distillery that produces organic cachaças from fresh sugarcane, is highlighting the national spirit of Brazil in an accessible way by introducing the first ever Sparkling Caipirinha in a can. It's fresh, natural, flavorful, and carbonated, making the world's most popular cocktail by consumption sparkle and shine in a way that is easy to enjoy.
Stella Rosa Aluminum Singles, $4.99
Our new 8.5 oz aluminum single-serves serve the purpose for wine anytime, they're easy to carry, easy to pack, easy to drink, look stylish, can go anywhere with you and you're going to love them! Find them at your local retailers or come by our winery to have a taste and pick up a case. Find location and hours at SanAntonioWinery.com. Stella Rosa aluminum single-serve wine comes in our most popular flavors, Black and Platinum and Pink!
Easy apps to keep your guests happy all game long:
Guacamole from La Loncheria (www.loncheriabk.com; Brooklyn, NY)
Chef/owner Danny Mena just opened La Loncheria, a casual Mexican luncheonette in Brooklyn offers a super simple recipe for guacamole that your friends will rave over at your Big Game gathering.
Guacamole:
2 Chile serranos (seeded and deveined)
1/2 onion
Cilantro chopped fine
2 roma tomatoes chopped fine
Juice of 1 big lime or 2 small limes
2 tbsp of salt
8 avocados
Directions:In a food processor, mix chilies and onion until to a fine texture. Then, in a large bowl, mix all remaining ingredients and with a large spoon start mashing the avocados until the flavors are well mixed and avocados are well mashed, without being a puree.
Serve in a bowl alongside your favorite chips.