Vintage Clothing for Men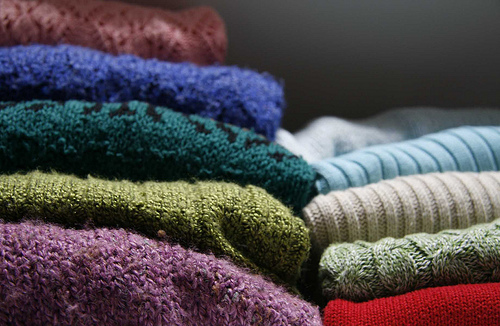 This is a guest post from Sharon. Enjoy!
Vintage has made a comeback in recent years – in accessories, in clothing, in wedding and party themes, even. In order to pull off this look, however, one's entire outfit need not be composed of purely vintage items. Two or three articles at a time, blended in with one's staple, contemporary wardrobe, are enough to make one look like a gentleman, in style.
Here are some items you've probably seen around lately, without realizing they could help you pull off an old-school look. You will, no doubt, develop your own favorites amongst these, and others that you discover on your own, as you delve into the possibility of incorporating vintage into your everyday style.
Knit Sweater
photo:
A knit sweater by itself does not spark much curiosity, but pull it over a long-sleeved shirt and tie, and you zap yourself back to the '60's. Try a crocheted, ivory sweater, over a light-blue dress shirt and ruby red tie; or a ribbed, paprika one over a crisp, plain white office shirt. Best worn with slacks (rather than jeans), this ensemble can take you through a cool day at the office, or a brisk evening out with the guys.
Pea Coat
A pea coat is a woolen coat patterned after uniforms that used to be worn only by European naval officers. As with any garment or piece of clothing with a novel attraction, the pea coat, or pea jacket, is now worn by people outside the navy as well.
These are made of dark wool —either navy blue or black— and are double-breasted, which is a huge part of their appeal as well. Pea coats are meant to be overcoats, though, so they do tend to be a little oversized. They are stylish on their own, but look a lot more snappy when they are trimmed to fit more snugly; as do regular well-fitting jackets. Look for ones that have a slimmer cut and are cinched at the waist, to give you a decidedly dapper look.
Bomber Jacket
photo:
If the navy's look is not for you, perhaps the air force's is. Vintage leather jackets, like the ones air bombers used to wear, have also made their way into mainstream fashion. Not surprisingly so, as these immediately lend an air of unmistakable masculinity to men who wear them.
Moreover, contrary to common perception, these leather jackets go with slacks, as well as with jeans. Beige cotton slacks and a dark Mandarin-collared shirt help complete a dashing ensemble you could take the lady out in, for dinner (try a washed, reddish-brown one, over a charcoal-grey shirt). Good for afternoons, too. Surprise her at home, with a bouquet of roses, in a round-collared mahogany jacket, thrown over a plain white v-neck, and be ready to catch her when she swoons.
A quick tip, to help you in selecting your bomber jacket: look for a washed finish, and opt for a brown or reddish-brown tone, for a sharper vintage flavor. Match dark-colored jackets with light-colored pants to create some contrast.
Fedora Hat
Most of us know fedoras to be made of wool or felt, but they can also come in straw. They can be braided or woven, in either coarse or fine strands; or, simply, sewn in soft, crushable fabric. A classic fedora hat has a low crown, which has a lengthwise crease in it.
What wearing one could do for you is give you that elusive debonair look. Hats are appealing because they are reminiscent of times when our current concept of the perfect gentleman was born, and so most men who wear them these days are perceived to be so.
Wear yours with a plain v-neck t-shirt —with just the front end tucked into your jeans to show just the belt buckle; or with a plain button-down shirt, with the long sleeves folded to mid-forearm.
Suede Shoes
Suedes are another vintage staple that have been resuscitated. Suede shoes, especially nubucks (a more expensive grade of suede made from thicker, unsplit hide, called "full-grain"), have a luxe vintage appeal. Suede is made from the same material as leather (i.e. animal hide). The difference is, that, suede has a velvety finish (called a "nap"), which is produced by rubbing the top of the hide with an abrasive (the same kind found on sandpaper or an emery board).
What the practical, non-purist, vintage-lover may appreciate more —however— is a pair of stylish shoes made from synthetic suede. Synthetic hides have a chemical finish that make them less susceptible to water damage.
Just the same, whether you buy natural or synthetic, if you are set on that vintage feel, stay away from black hides. Choose suede shoes dyed in reds, rusts, browns, and blues. Wear dark blue ones with jeans and a matching fedora hat for a trip to the theatre. Or, impress Mother with your upgraded taste, by pairing brown ones with clean chinos, on your next visit.
Waistcoat
This is a type of vest that we normally associate with the inner vests in three-piece suits. And reasonably so, as they do look alike. The difference is, that, a waistcoat meant to be worn on its own (i.e. without a matching suit) would have a matte, or even leathery, finish.
Waistcoats are a unique add-on to one's everyday attire and, when worn right, serve to make an outfit more interesting. Unless the vest has a very casual appeal, waistcoats are best worn with collared dress shirts and slacks, or a good pair of casual dark pants.
Button up a dark one over a shirt and tie, or leave it hanging open over a loosely-tucked in shirt. Shirts in neutral blacks and whites can match either warm- or cool-colored vests; but decidedly cool-colored shirts should be worn with black or navy blue vests, while warm-hued ones are better worn with brown or camel vests.
Estate Ring
An estate ring is the same as an heirloom ring. Neither have to be from an ancestor in your family. This is because some heirlooms pass on outside of the families that originally own them, for a number of reasons (gifting, selling and auctioning, medieval looting).
Estate rings for men generally have one chief gemstone set in an ornate band of silver or gold. It is important to be comfortable with the collective level of embellishment and with the size of the central gemstone, in order to wear an estate ring well. Estate rings go wonderfully well with formal suits, especially vintage-feeling three-piece ones. A little creativity can go a long way, however, in enabling a bloke to wear one with a casual outfit —picture a plain, white roundneck tee, with a printed vest, blue jeans, black low-cut leathers and black fedora, and an estate ring of round bloodstone in gold bezel on your favorite ring finger.
—
Sharon Sussman works at Brilliance.com, where she also maintains the company blog. Sharon recognizes the importance of one's personal style, which is why she is also proud to be part of a company that specializes in bringing custom, personal-style engagement rings to life.