Denim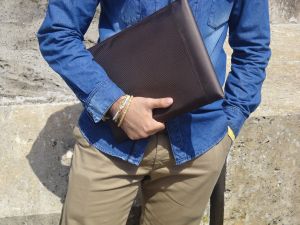 They say formal is the hottest trend right now. And they're right: ties, pocket squares, tie clips, cufflinks… these are all staple accessories of formal style. No one can deny that. They got a complete makeover and, provided you read the theory, you can make them look amazing .
But not all stylish things are old. Denim is one of the biggest exceptions and I'm not talking about jeans here. You'll be surprised to see the items that now come in denim so keep on reading to find out about each of them. In fact.. I bet you didn't even think that some of these items also come in denim.
Without further ado, let's go through each of the denim garments that you can wear right now for a stylish look.
#1 Denim Jeans and Shorts
Obviously, right? Jeans look great on anyone but the trick is to pair them with clothes and accessories that make the outfit stand out.
An outfit that incorporates jeans needs a quick refresh to avoid looking generic. A patterned shirt, a pair of colored socks, a sports jacket or a cool accessory are all good places to start.
Now, with jeans, you might want to avoid the ripped look. They look sloppy and, unless you're in high-school, you shouldn't be wearing them.
#2 Denim Shirts
What's cool about denim shirt is that they're more casual than the business shirts you see most stylish guys wear. To be honest, my denim shirt is my favorite one right now, provided that I wear it with the right clothes.
You may have notice I'm NOT wearing my denim shirt tucked in. Most of the times you shouldn't do it. Denim is a thicker fabric, it look much better on the outside then if you try and squeeze it inside your pants.
#3 Denim T-shirts
I personally don't like them but don't let this stop you from trying them out. You can make them work with a pair of chinos and some leather bracelets.
#4 Denim Jackets
Denim jackets are great for the spring and summer, provided that you wear one that fits you perfectly. Wear them over a t-shirt, a polo shirt or a dress shirt – doesn't matter.
#5 Denim Flat Caps
Ok, now we're getting into the good stuff. We're all used to seeing people wear jeans and sometimes even shirts but it's very rare to see someone wear a flat cap, let alone one made from denim.
Flat caps are not something tricky like a pink tie would be. They're very easy to pull of, a pair of jeans, a dress shirt and a pendant or a bracelet and you're good to go!
#6 Denim ties
Denim ties look amazing. That's all I can say. Wear them with a pair of jeans in the same color as the tie and you'll make a kick-ass outfit.
#7 Denim Cufflinks
Don't they look nice? How about pairing them with a denim tie or a denim flat cap?
#8 Denim pocket squares
I bet you saw that one coming, right? This will really make you unique as almost no one is wearing such a garment. I wouldn't wear them unless I had another denim item in my outfit – they won't be that noticeable without it.
photo: fiverr.com
#9 Denim bracelets
This is too much, right? Well, why not? Denim is just a fabric like any others, you can make almost anything you want with it.
photo: far4.net
#10 Denim Bow Ties
They look amazing, don't they? You can go ahead and wear them with a denim shirt if you want, just make sure you make contrast. Even if you wear them with regular shirts, make sure they are not part of a business or office outfit.
YES to a denim bow tie + denim cufflinks and a definite NO to the denim bow tie + pocket square.
How Not To Screw Up With Denim
Is it easy to screw up with denim? Definitely yes! Wearing too much denim is a big no-no.
If you're wearing a denim shirt and a pair of jeans, that might be a little too much. You CAN get away with it if you make sure the two garments have different colors/shades. This is to avoid the uniform look which I personally hate.
Another no-no would be to wear 2 denim garments one on top of another. Examples include a denim tie over a denim shirt or a denim jacket over that same shirt. Doesn't look good.
How do YOU wear denim? Tell us in a comment below.
Oh, and if you're interested in some of the other fabrics I covered, take a look at a recent article that talks about linen.