7 Purple Outfits for Men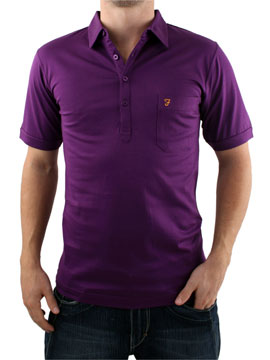 Question: what does a man do when he FINALLY wants to get something stylish? Answer: he chooses something purple.
It's true, purple has it all: it stands out but not too much, it's easy to match with many colors, including the white, black and gray clothes most men already have and… you can find it anywhere in the stores. I can even say some stores have practically colored themselves in purple.
If you want to add some color into your outfits and you don't know what to choose, go for purple. I'm not going to give you much theory today, I'll just let the pictures speak for themselves.
Purple goes well with jeans…
… but even better with some black dress pants and some shoes…
… and if you want to add a sports jacket and a tie, you're on the right track…
… and if you want something more advanced, go for a polo shirt (I have one myself and I can say it suits me very well considering I have dark skin complexion)…
… ok, enough black, let's see what else goes well with purple…
… and if you want something for the winter in purple, take a look over the picture below…
Want something more advanced? How about the guy in the image below?

P.S. I've written an easy to understand article about how should men color match their clothes. It's a great starting point if you want to delve more into this subject.
And if you want more details about:
how to match colors and outfits
men's shirts, accessories and the rest of the clothes
I invite you to access my e-Book, "Be Stylish!". And if you want to post your purple outfits, feel free to do so by leaving a comment below.