Five Reasons to Wear Ties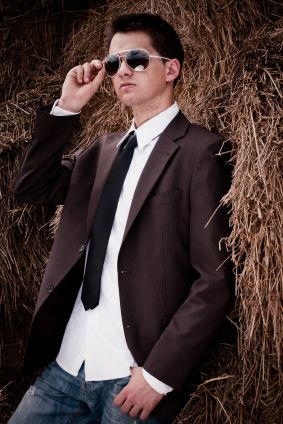 In the beginning I'd like to quote an extremely well known American designer named Bill Blass:
Sometimes the eye gets so accustomed that if you don't have a change, you're bored. It's the same with fashion, you know. And that, I suppose, is what style is about.
One of the easiest and inexpensive ways to make a change in your wardrobe is to wear accessories. Women have plenty to choose from but men seem to be limited when it comes to them. Not so!
If you want a stylish accessory, ties are the solution.
And since I don't give advice just to hear myself speak, I have exactly five reasons for you in favor of wearing ties.
Ties can be worn with blue jeans. When we think of ties, we automatically think suits. Not exactly so – you can wear them with casual outfits as well (think jeans and polo shirts)! If you want to impress a girl or just wear something different, you don't have to spend big bucks on plenty of clothes. Wear the same ones and add a tie.
You will look taller. Vertical stripes on a shirt give the impression that the person is taller than he or she actually is. Ties achieve the same effect. Trust me, the effect is as real as it can be!
You'll look classy. Even if you go for slim ties, you're still inclining the balance towards casual for your outfit. It's one thing to wear a big sliver chain around your neck and it's completely different to wear a tie.
You have plenty to choose from. Generally, when matching outfits it's hard to play with colors and patterns. You risk looking ridiculous. When it comes to ties, however, you can choose from the plethora of patterns: uni (without any patterns), with stripes even with animals silhouettes (I've seen one of those they look awesome!)
The tie can be the one colored element in an otherwise dark outfit. If you're just starting changing your wardrobe, you may have a lot of black, white and gray clothes in your closet. if they fit you you can just add a colored uni tie to make things interesting (for instance, if you have a gray V-neck and a white shirt you can get a nice orange tie. Try it out!
Now that you have some serious reasons to wear ties, there's only one thing left: to go try a few of them out. And don't forget to learn at least one tie knot.
Here's how to do it:
decide whether you want a suit tie or a casual one. Suit ties should always be made out of silk while the slim ones can be made of synthetics (thus you'll end up cheaper).
Wear your favorite shirt or t-shirt, with which you intend to wear the tie with.
Go to your local mall and try at least a dozen of them. See how each color goes with what you're already wearing. If would be useful if, beforehand, you read a little about how and which colors go together and how they should be matched with your skin complexion.
Find the one you like best, try it on one more time and then BUY IT.
The last step is the most important one. I'm not telling you to buy just to spend your money. I will never ever do that.
If this is your first tie that you plan on wearing regularly, getting it now is a commitment form your part that you're serious about changing your wardrobe. If you procrastinate you may end up not getting one at all and… my article would be useless.
I'll leave you with the quote from the beginning. Hopefully you'll see it with different eyes now:
Sometimes the eye gets so accustomed that if you don't have a change, you're bored. It's the same with fashion, you know. And that, I suppose, is what style is about.