Style Icon: Zac Efron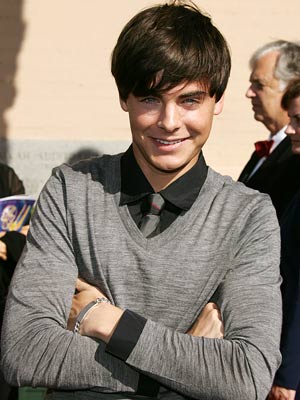 When I was a child I thought celebrities dressed well because they had a lot of money. I mean, they have a whole team of fashion consultants behind them, right? They take care of every aspect of their image so they can look good not only in concerts and movies but also in their daily lives.
This is all over now. I know that if I use my head a little I can pick great clothes that not only look great but make me feel great. And how you feel is what matters.
I noticed Zac's outfits because they combine formal with casual clothes in a great way. Let's take a look at this outfit, for instance. He's wearing a gray cardigan, a black shirt and a black slim tie. Even though he's not wearing anything of color, I absolutely LOVE this outfit. What do you think of this formula?
formal + casual = cool
You can wear Zac's first outfit in the spring or autumn, t keep you warm. If you think it's too much, you can give up the tie and, if you think it's not enough to make you stand out, you can replace the tie with a red one.
Here's another outfit from Zac. Let's make a small exercise. Take a look at the picture below and tell me what's the most important thing you noticed.
Did you get it? If not, I'll tell you. The blue from his shirt matches the color of his eyes. I've only seen a handful of blue-eyed people who used this sneaky little trick to their advantage.
If you have brown eyes this won't work but if you have blue or green eyes… get something blue or green and you'll see the results!
There's one more detail I want you to notice: the white belt. It contrasts great with the darker colors in the outfit and would go great with a pair of white sneakers or shoes.
Now that you've seen Zac in action, I wonder what ideas his outfits gave you. 🙂