Five Shirt and Tie Combinations to See You Through the Festive Season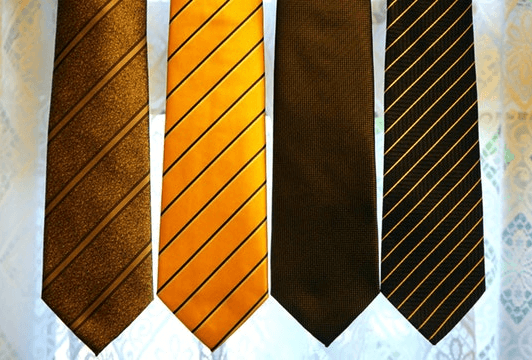 As the festive season arrives, so do the office party emails and the invitation to your auntie's annual Christmas soiree. However, whilst the thought of free booze and finger buffets may give you reason to smile, deciding what to wear can prove rather daunting. To help, we've pulled together five fail-safe shirt and tie combinations that are sure to see you through the holidays in style.
Mr Festive
Shirt by Harrods
Tie by The Tie Bar
Are you more Cindy Lou Who than Ebenezer Scrooge? Now is the ideal time to start wearing those classic Christmas colours. A must-have for smart-casual events or those looking to enliven their formalwear, this plaid tie from The Tie Bar will partner perfectly with a crisp white shirt. If pattern isn't your thing, a solid red, green or gold tie would work just as well.
Mr Classic
Shirt by Turnbull and Asser
Tie by Drakes
Whether you've been invited to a formal dinner or just prefer to keep things low-key, a pale blue shirt with a burgundy tie is a timeless combination that is sure to impress your work colleagues and friends alike. To complete the look, pop on a tailored navy blazer, grey trousers and your favourite pair of brown shoes; adding a patterned pocket square for a dash of personality.
Mr Adventurous
Shirt and Tie by The Savile Row Company
Finding silk ties to pair with a striped shirt may seem like a tricky task, however it's really not that difficult. Simply opt for two designs that complement each other rather than clash. Perhaps the easiest way of doing this is to stick with a block colour tie. However, for those wanting to be a little more adventurous, make sure the pattern on your tie is larger – or at least bolder – than the stripes on your shirt. As for stripes on stripes, they can work perfectly well as long as they aren't the same width.
For those wanting to be a little more adventurous, make sure the pattern on your tie is larger – or at least bolder – than the stripes on your shirt.
Mr Corporate
Shirt and Tie by Mr Porter
If you insist on heading straight from the office to your Christmas party, at least make sure you're wearing something suitable for both work and play. Our choice would be a pale pink shirt teamed with a patterned tie – an arrangement that will give your ensemble a playful edge without feeling too informal.
Mr Black Tie
Shirt by Harvie and Hudson
Bow Tie by Jaeger
For those attending a black tie event or any other fancy occasion, your go-to combination is a white shirt and black bow tie – complete with a black dinner suit and patent black shoes. When choosing your shirt, ensure it's double-cuffed and secured by cufflinks, whilst your bow tie will look best if it's made from silk.
Although we've covered the festive season classics, there are many more combos you could create yourself. But before putting together your own combinations, we recommend taking a look at the colour wheel. As a rule of thumb, colours either opposite or adjacent – like blue and orange – pair happily. Whereas anything else should be approached with caution. Have fun, and don't be afraid to experiment!