Travelling? Try These Style Tips…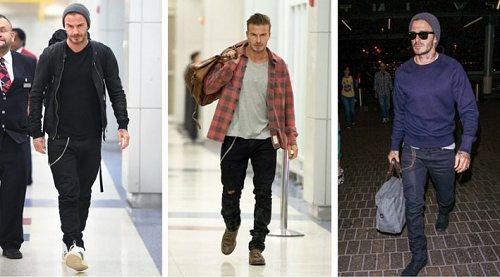 It's summer so this means we're more likely to travel on vacation, to see friends and relatives in other cities… or even to take part in important events that take place during this wonderful season, such as weddings, reunions and so on.
One thing we can't do is take our whole wardrobe with us. We wish we could, as even 2 or 3 days out of town require at least a few shirts, 2 pairs of pants, a jacket and a whole lot more.
When travelling, practicality and versatility are of utmost importance. And not just with clothing. We have a limited amount of space in our suitcases and in our cars' trunks. We're facing hours or even days of being on the road on planes. And most of the stuff we have in our luggage is a combination of clothes and accessories.
What I'm sure I will achieve with this article is to…
– make it less stressful for you to pack and unpack
– show you how you can have feel more comfortable in your clothes while travelling
– and shed a few ponds from your luggage by showing you what clothes and accessories NOT to throw in
Tip #1: Moccasins are your best friend for summer travelling
Moccasins are amazing. They're very comfortable and they provide a degree of formality far superior to sneakers and plimsolls. Sure, those are fine too but mocs are way more stylish.
One rule of thumb is to never wear them with regular socks. Try invisible socks as they'll give you that sockless look that's so trendy right now.
As I have a formal event this Sunday that requires a suit and a 2.5 hour drive to get there, I wont' be wearing my lace-ups all the way there. What I'll do is pair the mocs with my suit pants, and wear a polo shirt instead of the french cuff shirt I'm going to wear at the event. The shirt and the suit jacket are going to be safely placed on hangers in the back of my car, while the brogues will be sitting comfortably in a box in the truck.
photo:
Tip #2: Consider a holdall bag
When we think of holdalls, we're instantly thinking that these are just for the catwalk. Far from it. The holdall bag is as stylish as you can get on the road. While it doesn't replace the need for a suitcase, it's perfect for keeping a lot of the essential things you may need during your travel.
photo: http://www.splashinnovations.com
Tip #3: Consider a compact umbrella
Indeed a classic umbrella will add more flair to your smart casual outfits, but a compact one will occupy a lot less space and it will fit a lot better in your holdall bag.
Compact umbrellas are not by any means a no-no so feel free to use them when travelling. And don't forget to match them with the rest of your outfit.
Tip #4: Consider t-shirts instead of shirts
Now, I'm not saying you should ditch shirts altogether, although I did get a little carried away when I wrote the article on how I threw away my shirts.
But t-shirts have several advantages that make them less of a hassle when travelling during the summer. They don't wrinkle that easily, they take up less space and they're easier to pack.
This doesn't mean you shouldn't pack any shirts, but consider a 50-50 mix between shirts on one hand and t-shrits/polo shirts/henley shirts on the other.
Tip #5: ALWAYS get a jacket or a vest
I don't care how hot it will be where you're going, there's always a chance it will get chilly during a night out to the clubs or during a long walk on the beach.
You don't need something heavy such as a trench coat – a jacket will do. You can pack a Harrington jacket, a bomber jacket, a varsity jacket. And if you want something that will take up less space, how about a down vest or a gilet?
Tip #6: How about a compact toothbrush?
I'm not sure if you've ever seen those retractable tooth brushes… Colgate has a few for dirt-cheap prices.
You can even get a small-sized tooth paste, such as this one right here, that contains a Colgate toothpaste as well as a retractable toothbrush.