How to get the Berlin look – even if you aren't in the German capital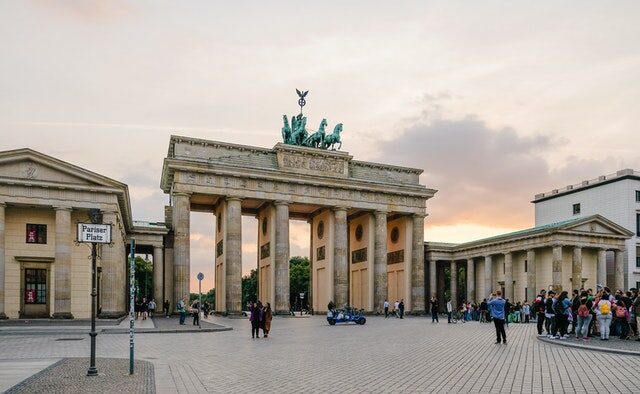 There's no doubt about it that Berlin is the capital of cool. The fall of the Berlin Wall in 1991 signified a new era, and the city fast became a hub of culture, creativity, and individualism. It's one of the hippest places on the planet, famed for its film, nightlife, and fashion, and as such surpassed Rome back in 2015 to become Europe's third-most-visited city behind London and Paris.
Youth culture runs in Berlin's blood. The result? An endlessly cool aesthetic that makes Berlin one of the world's best-dressed cities. Here we show you how to get the Berlin look, even if you aren't in the German capital…
Feeling the blues
Although double denim is a popular trend through Europe, the Germans take it one step further. In Berlin, the colour indigo is huge. Inspired by Japanese fashion, Berlin men go for indigo-on-indigo looks of their streetwear.
Try pairing an indigo-coloured cropped jacket with a pair of blue jeans, which you can break up with some brown accessories and shoes. Denim-look items like blazers are also very popular.
Layer up
In Berlin, men take risks when it comes to fashion, and this shows itself particularly in their more grungier outfit choices. Layers come into play here, as Berliners like to pair slim-fit black jeans with a plaid shirt, which either peeks out of the jacket or is tied around the waist for a more rebellious look. And this outfit is always, always, finished off with a black leather biker jacket.

Athleisure
Berlin men certainly embrace loungewear, sportswear, and athleisure – whilst always adding that high fashion touch. Don't forget that this city is all about freedom, so you can wear your tracksuit tighter, baggier, dress it up, or dress it down – anything goes! Click here for an array of men's tracksuits to really up your streetwear game
Slim down the suit
Tailoring does exist in Berlin, but of course it's eclectic, quirky, and non-traditional. Your suits should be slim, unstructured, and ideally in light cotton fabrics. What's more, they should be heavily accessorised, but with that cool twist – messy silk scarves shoved into a pocket, oversized bow ties, and even riding gloves! You can keep the colour simple if you prefer, as most Berliners prefer their suits to be grey.
The ultimate smart/casual
The sophisticated dresser in Berlin wouldn't be caught dead without his trusty winter-coat-with-denim-jeans comb, as mad as that sounds! Take it from us – in the German capital men love pairing tailored coats and waistcoats over washed out jeans, leather shoes, and scruffy hats.
This strange trend extends to outerwear too, with men putting parkas and knitted jackets over crisp white business shirts and silk ties. This is the typical uniform of the Berlin creative worker, and can be achieved at quite a low cost, too! Just remember to ditch the traditional briefcase and opt for a more low-key and rugged leather backpack.
Are you now ready to boss the Berlin look – anywhere in the world? Of course you are… Enjoy!