Nick's Transformation (part 2)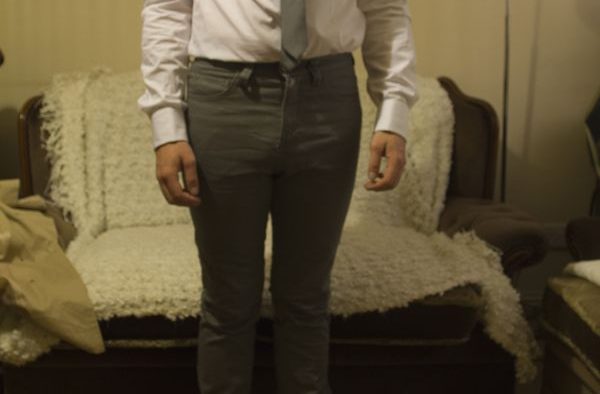 You can check part one of Nick's transformation here.
It's been a while since Nick started his style evolution and, although I wasn't sure he would stay on his path to style mastery, he has. And he sent new photos. Let's see some of his new outfits. And feel free to comment with more suggestions in addition to my own.
Let's take each photo one at a time and see what's working and what isn't.
Nick, your new shirt looks great! The fit is good, you rolled your sleeves correctly. I understand that you didn't take your old clothes to your tailor so I won't comment on your jeans. Your shoes and belt need to be replaced, I think your belt's outer layer of skin has peeled off?
Try these shoe types:
photo: http://blog.leffot.com/
photo: http://blog.leffot.com/
And how about this thin belt? (my favorite):
Ok, Nick's second photo is below:
I think all the garments from this one are the same as in part 1 of your transformation? I don't see anything new or changed, the white shirt is exactly the same, so are the jeans, belt and shoes. Maybe I'm missing something…
I like the color of the corduroy pants above, but I would have went for classic chinos. THe matching between your pants and shoe laces is great, although the shoes themselves aren't topnotch. They will do for now, but consider these:
One thing I didn't like in the outfit above is the tie that seems to have wrinkles on it. Maybe you stored it incorrectly? You should either roll the tie or keep it on a special hanger folded in two.
I like the color combination in the outfit above but I think that you can get a higher quality one. I also like the fact that you can see your shirt's cuffs from underneath your blazer's sleeves.
Nice suit. It does need some adjustments, though. Maybe you can add a pocket square in your jacket's chest pocket? I couldn't spot that pocket, though. In the second picture of your suit, the tie should be just a little longer, so its tip touches your pants.
The shoes have to go, though.
I really like the way you matched your tie with your pants! The pants need to be shortened, though, and that par of shoes has to go. IN an outfit like this it would be nice to add some color. Maybe a watch with a colored strap, maybe a colored bracelet, maybe a colored canvas tie? Or how about a pair of colored suspenders?
Perhaps you should tell me what you intend to purchase next so we can figure out how that next item should look.