Attention To Detail: The Wallet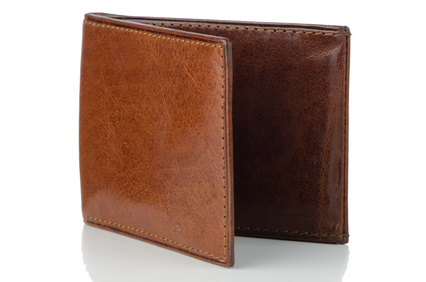 As you start expanding your wardrobe, you'll notice you start paying more and more attention to details. And one of these details is, of course, the wallet.
A lot of men neglect this iconic piece of menswear because it's not something that's visible all the time. You only get to see it for a few seconds while you take it out to pay for something.
But here's the thing: you do need one, it does show, so why not chose a good one?
Before we continue, a word of advice. If you don't yet have a solid basic wardrobe, it's probably not the best time for you to consider a new wallet. Shoes and clothes come first, accessories come later. Taking care of the details is something you do only after you have at least 4-5 shirts, 4-5 pairs of shoes and the critical accessories, such as socks, belts and scarves.
If you already have all those clothing items, picture this:
What impression would a man (or a woman) make if they showed up really well dressed then, at some point, they took out an old, deteriorated wallet?
Not a particularly good one, right?
So here's the first rule when it comes to wallets: never wear one that's not in top shape. Any wallet will deteriorate in time, some sooner than others. So do me a favor. Take a look at your wallet right now and tell me (honestly) whether it deserves to be replaced or not.
And if there's a little voice in your head that's telling you it's okay, it's still wearable, I recommend that you throw your wallet away and go shopping for a new one ASAP.
So which wallets are best?
One word (for now): leather.
And how can you tell a good leather wallet from a bad one: just by looking at it and feeling it.
This is actually no different than buying shoes. A quality shoe is obvious to spot. Cheap ones have a cheap feel, with less shine and a thinner, even cardboard-like feel.
It's the same with wallets. Take your time, go through more than one store and avoid really cheap stores that may have them such as supermarkets. You don't buy a quality wallet from the same place where you buy your groceries.
Got your first wallet? Great, how about a second one?
It's no secret that the more your rotate your clothes and accessories, the more you increase their life span.
Now think about your wallet for a minute. If you keep it in your back pocket all day long, you can imagine what you do to it every time you sit down. Wearing one every other day will give it some breathing time. Plus, there's another reason to rotate…
Matching your wallets to your outfits
A few of my readers were surprised when I told them, a while back, that I actually have to wallets, one black and one brown. When I wear a black-based outfit, I wear the black one. When I wear a brown-based outfit, I wear the other one.
This means, of course, that I have to constantly move my IDs and money from one to the other. But it's not that painful, once you get used to it. It's just a habit and, in time, you'll get used to it.
It takes me less than 10 seconds now to do the switch. Another thing that I do is to make sure I keep small amounts of money in each of them, just in case I run out. But that's not really a problem, anyway.
So how DO you match your wallet?
The first and easiest match is with the shoes and belt. This rule, derived from the formal style, is a must-know for anyone serious about the way he dresses.
You can take things one step further, of course, by buying a matching umbrella, messenger bag, phone case or even a tablet case.
Here's how you would match a black belt at a basic level. black shoes, gray
Now, when you're dealing with brown shoes and a brown belt, you absolutely need a brown wallet. Don't even think about getting a black one.
I know it can be hard to find the exact shade of brown to do the match so if you find a shade that's close enough, it's ok to go with it.
When it comes to casual outfits, things are a little different. The shades of black or brown can be different and still work. Heck, you don't even have to match your wallet with your shoes. You might as well match them with your tie, for instance.
Colors
Unfortunately we're a little limited when it comes to wallet color options, unless you're willing to search beyond what malls have to offer you on the Internet.
Black and brown are easy to find, gray is a little harder, but what if you want something else?
Since the wallet you choose isn't dependent on your body type, but rather your preferences, you can go ahead and buy them off on the Internet (contrary to my advice of never buying clothes online).
This means you can find some extremely interesting wallets, such as this one, with a leopard skin:
source: și nsutjongdro.tumblr.com/
You can, of course, find something more wearable, such as this one from Fossil:
photo: www.fossil.co.uk
And if you're a fan of patterns, you can try this tartan wallet, made from a combination of cotton, leather and polyester:
The alternative
Although I've seen this accessory on many style websites, I'm not really a fan of it. I'm talking about the money clip. Here it is:
The reason I don't really like it is simple: when you take it out, your money will show off and that's not something a gentleman would look good doing. But if you're, say, into bling-bling and hip-hop (I love the music, don't get me wrong), then this accessory might be just what you need.
What do you think: money clip or wallet?