The Best Way to Enjoy Your Trip to Bangkok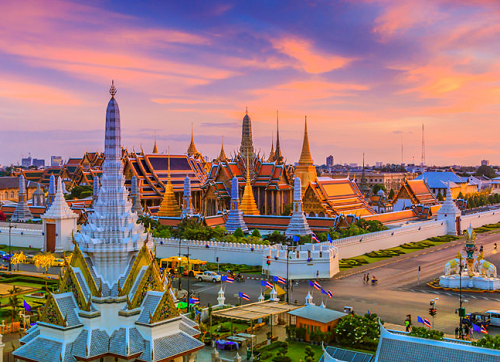 Although the capital of Thailand is known to welcome more travellers than any other region around the globe; it still has a reputation for not being very tourist-friendly. Plus, there are often many accounts of it being dirty and possessing a nasty odour. However, it doesn't attract millions of visitors each year for no reason, and the temples, culture and shopping areas really make it a wonderful place to go.
Even if it doesn't boast of a wealth of 'tourist attractions' like some other places, it is a great place to relax, see things and eat delicious food. In addition, many people use Bangkok as a special stepping stone before going on to explore the islands or the jungle. This highlights the sheer size of the region, and many people do visit Bangkok just to wander around.
Now, if you're visiting for a few days, you may struggle to fit everything in. So, a great option would be to arrange a form of travel, such as hiring a car or local transport. If you are going to hire a car, you could save money with a car rental comparison service such as holidayautos.com. Although, if you do want to fully immerse yourself in the culture, you may just want to walk everywhere! Anyway, below are some of the best things to do…
The Grand Palace
The first thing to do once you land in Bangkok and find your bearings would be to schedule a visit to The Grand Palace. Even though the royal family don't reside in the palace anymore, and you can't actually enter the building, just wandering around the grounds and witnessing it is spectacular in its own right
Wat Pho
Wat Pho is right next to The Grand Palace and features the famous reclining Buddha. This makes a convenient stop after you've been to The Grand Palace. Another thing to do here is take a stroll into the massage school.
Temples
Next, head down to the multitude of gorgeous temples that Bangkok has to offer. You could either walk, use your hire car or utilize one of the local tuk-tuk drivers to get to them. Some of the most magnificent temples with the most divine and vibrant colours are the Wat Traimit, Wat Kalayanamit and the Wat Saket and the Golden Mount.
Khao San Road
Another thing that you MUST do if you're staying in capital of Thailand is to take a walk down Khao San Road. Here you'll truly get a sense of the local culture, and it is full of bars, street food stalls, shops and great restaurants.
Khao San Road s often incredibly busy on this road so just remain vigilante and be careful!
National Museum
Another thing you could do to really get the most out of your stay is a visit to the National Museum. This has a plethora of different artefacts, musical instruments and unique wooden carvings. This is a great way to delve into the history of Thailand!
Floating Market
Or, maybe you'd love to experience the renowned floating market. You'll be able buy food and ingredients form the local Thai's as they creep by on their wooden canoes. It is amazing, and the most popular one in the region is Thailand Chan; it can get very crowded though so it may be best to get there early!
Muay Thai Contest
If you're into combat sports; a traditional Muay Thai fight would really get your heart racing. It is a fun way to spend some of your time in Bangkok and you'll be able to witness some excitement that derives from the local culture.