How to Create the Ultimate Man Cave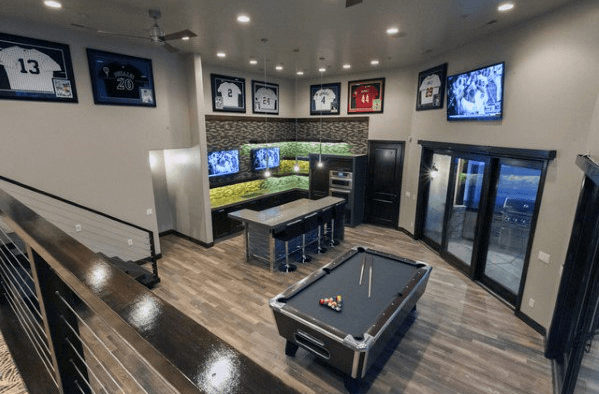 Whether you want somewhere to 'escape' from the craziness of family life or you like the idea of having a boys' room for you and your mates, a man cave could be the perfect idea for your home. And the best news is, whether you've got a small box room or an entire shed to create this retreat in, it couldn't be easier to achieve the ultimate man cave.
Here's how:
Choose a Theme
You might just want a cinema room where you can shut the door, relax and enjoy your favourite films, in which case, a simple grey and white or black and white theme may suffice. However, if you want to go all out with your new man cave, centering it upon a theme is a great idea.
Some cool options include Marvel-inspired designs, an antique gentleman's club, a disco bar, a tropical bar, a poker room or a traditional pub. How about making the most of the NFL Football season and creating a an area to hang out and watch the games.   The possibilities really are endless! However, once you've settled on your theme this will help you with the next few steps.
Consider Your Fixtures and Fittings
If you're on a budget, you're not going to want to splash out on lots of different fixtures and fittings for your room, so consider what will help bring your theme to life.
For example, if you are creating a cinema room, your main pieces will be a comfy sofa and a projector for the wall. However, if it's going to be a games room, you might want to invest in a snooker table, darts board or other such pieces. Going for a retro look or traditional pub style? Then a second-hand bar (or something you've constructed yourself) may be just the ticket.
If you are creating a cinema room, your main pieces will be a comfy sofa and a projector for the wall.
Set the Tone with the Right Décor
Now you've got your key items, it's time to bring this theme to life with your finishing touches.
This includes the colours you're painting the walls and what you're putting up at the windows. From retro-style Venetian blinds that match your key design pieces to blackout blinds that will create the perfect cinema experience, the window hangings you use can really bring together the overall look and feel of your man cave.
Furthermore, you'll also want key accessories that add quirky finishes to each area of the room. For example, this could be old bar stools from your local pub, beer mats you've bought from eBay, framed comics to hang on the wall, cool light fittings that set the ambience and all the essential spirits you need to stock your bar.
Finally, you're going to need an official opening of your new man cave. So, print off invitations for your best mates, hang up a ribbon at the door to cut and celebrate your newfound space (and freedom) in style!