How to Determine Her Ring Size Without Her Even Knowing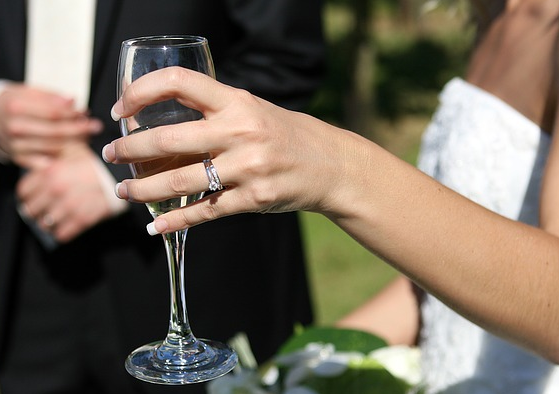 So you decided you are going to pop the question and you are looking to buy that perfect engagement ring.  This is certainly one of the biggest moments of your life and buying an engagement ring is a mission critical moment that could make you look like either a hero or a zero.
However, one very small detail remains:  you don't know her ring size!
Don't worry; there are many hacks that can be used to find out the ring size of your partner.  Today we'll cover a few of the basics we learned that are an abbreviation of what you'll find on this page – determining ring size – the diamond advisors.
The first thing you can do is "Fake it." This isn't the best way because it leaves a lot of margin for error.  What you do in this situation is find someone who has very comparable fingers.  Get them to compare hands, placing their palms together.  This is going to be a serious test of your eyes, and for a bonus, have the person comparing fingers with her "in on the act."  Basically, brief that person so he or she (most likely a female) can touch, feel, and really size up the hands.  Again, this is a big gamble, but it's a starting point.
What you do in this situation is find someone who has very comparable fingers.  Get them to compare hands, placing their palms together.
Another method is simply involve her friends or family.
Sure, this may take a lot of the surprise element out of the equation, but at least you'll get better intel.  If she has a friend who is close to marriage, or recently married, it helps bridge the gap if she starts talking about her ring size and gets a bit nosey, even as far as asking "what is your ring size?"
This charade can go even further – they can go ring shopping "for fun."  That's an easy way to find out just what she likes in terms of cut and color as well.
If her friend happens to be engaged, she can even say "try my ring on."  There are all sorts of angles to be played here, but the best thing to know about this is that you MUST trust whomever you involve.  If they dislike you, this could have an awful ending.
The third method is what we call the "Snake method."
It's called the snake method because it's a bit slimey.  Go into her belongings and take one of her rings for a day.
DO NOT LOSE THE RING.  This is a very dangerous move that is high risk, but also high reward.
If you are totally against that method, you could take a ring she has, and when she's not looking, use a pen and paper and make several traces of the ring.  You can figure out the diameter and bring it to a jeweler.
The final method is obviously the most effective.  This method involves flat out asking her what her ring size is.  Sure, this will take away a lot of the surprise element, but many couples have talked about this event happening and it's just a matter of time before it happens.  If you find yourself in this scenario, being blunt and asking what her ring size is takes away all the guesswork.
With these tips in mind, you can now rest easily knowing you have options.  Good luck and here's to the next chapter.