How to Dress for a First Interview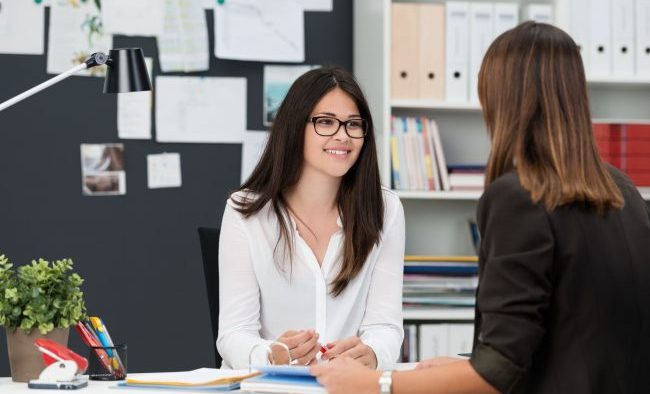 Are you a woman with an interview on the calendar? Congratulations! Just landing an interview these days can be challenging, as the job market is ultra competitive. If you've been reading over the most common interview questions and feel like your resume is at least close to flawless, it might be time to turn to what you're going to wear. In days past, this was easy, as a suit was always the standard. These days, however, the work environment in many offices has gone casual and, as such, interview attire has gotten a bit more so, too. You do, however, want to err on the side of caution.
One general rule of thumb is to find out what the dress code is like at this company and either match it or go just a tad dressier. As this article by thebalancecareers.com notes, "Always dress a bit more professional than the average employee at the company. If everyone is wearing shorts and t-shirts, for example, you might wear khakis and a polo shirt or button down." Wondering how to dress for a first interview? We've got your back (well, really, we've got you from head to toe).
In a Business Casual Environment
In this scenario, a more casual business suit would be fine, but you definitely don't want to wear anything far too formal. A casual dress is often the way to go for women interviewing in a business casual office. However, a sundress and sandals ensemble should always be off limits, as it almost says, "I'm heading to the beach right after this." It's probably not the message you want to convey … well, at least until you land the job. If the dress you choose is basic black, feel free to dress it up a bit with accessories and a pair of pointed toe leopard flats. As long as you look professional, it's okay to let your personality shine through.
In a Casual Environment
You've likely caught at least an episode of Silicon Valley. The shorts, tees, and flip-flips are often no exaggeration for how casual things can get in a tech startup. If you know this is what you're heading into, you might be tempted to roll in wearing the same type of ensemble, but this would be a mistake. Remember that part about always taking it up a notch? You can go casual, but make it professional black pants, a dressy camisole, and a cardigan type outfit. To dress just like them is a bit presumptuous. The exception to any of these rules, of course, is if they tell you to go ahead and dress a certain way.
Professional or Business Environment
To be honest, no one really wears the formal suits of days past, so a casual suit would be fine. But if you don't own a suit, a jacket, camisole, and slacks ensemble would work well, too. Accessories are still fine but you want to keep them on the more conservative side. Heels or professional flats are fine for your feet, but leave the open-toed variations at home.
Don't Forget to Mind the Finishing Touches
You can wear the perfect outfit from head to toe but if you still look unkempt and wrinkled, it'll be hard to overcome this first impression. Think about wearing your hair in a professional up-do. If you wear it down, make sure it's clean and worn in a simple hairstyle. Again, feel free to express your personality with accessories like scarves and jewelry, but avoid anything too flashy. Make sure your makeup is flawless and ideally understated.
As this CareerBuilder.com article notes, "Make sure you always look polished. In other words, don't show up in wrinkled, stained, ripped or ill-fitting clothing. Comb your hair, and check to make sure none of this morning's spinach omelet ended up in your teeth. Consider keeping a small grooming kit with you for any last-minute touch-ups you may need." This is one time you do want to sweat the small stuff.
In short, you want the interviewer to be focused on your background and why you are the perfect fit for this position … not getting caught in his or her head as to why you thought it was okay to wear earrings that hang past your shoulders. Dress smart and be confident … you've got this.