Living a healthy life in Buenos Aires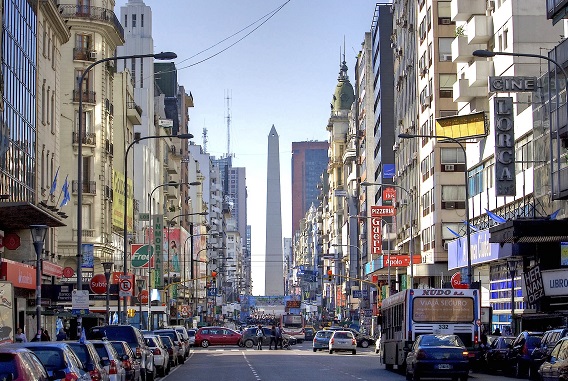 The opportunity to work anywhere abroad is exciting, but the chance to live and work in South America can feel like a dream come true. With so many countries rich in culture, natural wonders, history and opportunity, where do you begin? Buenos Aires is certainly a good place to start!
But how will you adapt when this cosmopolitan capital becomes your home? You are likely to be so busy settling into a new job, finding somewhere to stay, and finding your way around the city that maintaining a healthy lifestyle may fall by the wayside.
With plenty of activities and sports to get involved in, and delicious local cuisine to taste, here are a few things to try in Buenos Aires that will help you stay in good shape and good health.
Have a kick-about
With their world-class national team, it's easy to see why soccer ignites such a fiery passion within many Argentinians. They have won the World Cup twice after all! In Buenos Aires, there are numerous popular soccer teams including River Plate, Velez Sarsfield, and Boca Juniors which is currently the biggest team in Argentina. Matches are held almost all year round, which gives you plenty of opportunity to join in. Even if you're not a massive fan, going to a live match and enjoying the thriving buzz in the arena is sure to have you on your feet.
There are plenty of amateur soccer clubs you can be a part of including the Buenos Aires Fútbol Amigos (BAFA), a group of soccer mad fans that organize friendly games across Buenos Aires. No matter your level of ability, this club welcomes anyone and everyone who has a passion for the game. You don't need to be the next Maradona to kick a ball about! Plus, exercise never feels like work when you're having fun.
"Beef" up
Argentinians love meat. With an abundance of steak houses and grills, Buenos Aires is known as the steak capital of the world, so don't be surprised if you find yourself wearing a large white bib, staring open-mouthed at the mountains of meat engulfing your plate.
If you're not too fond of beef, or if you're vegetarian, then you could try locro instead. It's a popular local stew made with corn, beans, vegetables and usually meat, but you can always ask for the dish without it.
There are also plenty of vegetarian restaurants where you can find the most delicious cuisine including queso and cebolla (cheese and onion) empanadas which are a popular Argentine savory pastry, and quinoa which is a grain-based dish that is very nutritious and high in protein. Another desirable dish is humita which can either be eaten as a speedy snack or a scrumptious main course, made with fresh corn, milk, onion, spices, goat cheese, then wrapped in a corn leaf.
Maintaining a healthy and balanced diet abroad can be hard because you'll undoubtedly want to indulge in all the wrong foods even though it feels so right! But with a wide variety of farmers' markets dotted around the city, which offer plenty of fresh fruit and veg, you won't have to worry about indulging yourself with a few delectable desserts now and then.
You could stop by the historic Mercado de San Telmo, where you'll find juicy globe squash, eye-watering onions, vibrant peppers, sweet potatoes, cauliflowers and cabbages. For the cheese lovers, be sure to visit Mercado de Juramento which houses a wide variety of cheese, meat and fish stands.
Duck, duck, go!
Pato is Argentina's national sport. The sport dates back as early as 1610 and was created by a group of gauchos (South American cowboys) to break up the tedium of watching their herds in the Argentine pampa; the vast plains which extend westward across central Argentina from the Atlantic coast to the Andean foothills.
The original game was abolished in the 19th century due to its dangerous nature, but was revived in 1930 with strict regulations. The game consisted of four players on each side, and eight horses with the objective of scoring in a net at the end of the field. But the item used to score, was a duck (pato)! The duck would be placed in a leather basket with handles and tossed between the mounted players.
Luckily for the duck, the game now uses a ball instead and can be thought of as a cross between polo and basketball. Even so, the game frequently ends in broken bones! If pato sounds a little too risky, you could always forego the game and go horse riding instead. Not only does it strengthen core muscles, improves balance, co-ordination, and flexibility, but riding will give you a real feel for Argentinian history and culture.
Like every sport, riding horses can be challenging and risky, even more so when a large animal is involved. So, it's useful to know where to go if you ever find yourself with an injury.
Look after yourself
There are many sports injury rehabilitation centers located across Buenos Aires which offer specialized treatments and support for athletes and sports enthusiasts. These centers offer strengthening exercises and physiotherapy to ensure that the injury site regains its full function.
While public healthcare in Argentina is free, physiotherapy may not be covered because access to services largely depends on an individual's income level, which is why many expats choose to take out international health insurance. Taking out private cover allows you access to a wider range of doctors and specialists, plus you won't have to endure long waiting hours which can also be common in Buenos Aires.
Wherever you live, and whether you are an exercise fanatic or take a more leisurely approach to fitness and well-being, maintaining a healthy lifestyle is important. With healthy local food options, amateur soccer clubs – and maybe even a duck or two – you won't have to look too far to find something that helps you stay fit and healthy in Buenos Aires.
Disclaimer: The information included in this article is provided for information purposes only and is not intended to constitute professional advice or replace consultation with a qualified medical practitioner. All information contained herein is subject to change.