Reasons Why You Should Own a Fitted Suit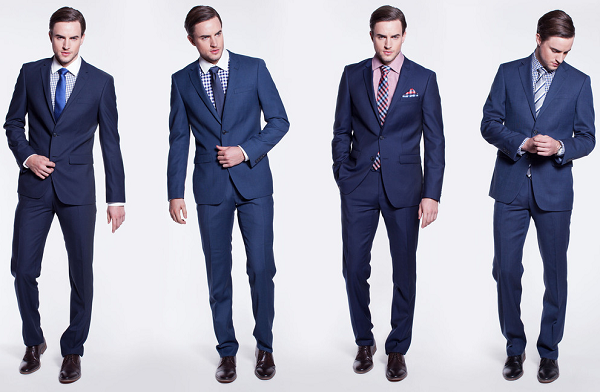 We at BeStylish! believe that you if you want to stand out from the rest of the crowd and be different, stylish and overall better dressed then we recommend you purchase a fitted a suit. Here are some reasons why we think you should go an invest in a suit that is bespoke and fitted to your body.
1.The Fit
Number 1 reason why every man should own a fitted suit is obviously because it is a much better fit than a rack suit. By tailoring the suit to fit exactly your measurements allows for a perfect fit which not only looks better, it also fits better. Every man is different and therefore the arms could be baggy, the neck shoulders too wide, inside leg too tight, all of which makes an off-the-rack suit not do you justice. You deserve a suit that looks as good as you want to feel.
Studies have also shown that a man in a fitted suit is looked upon more positive than a standard unfitted suit. People were shown photos of several men in both fitted and off the rack suits and asked to rate the appearance. The results were overwhelmingly positive for the men in fitted and tailored suits. For a slightly bigger investment you can look, feel and appear more positive.
2. Better Investment
Sure, we can all find standard fitting suits at low prices but there are certain things when an investment is required, that is a fitted suit. The quality of a fitted suit will be better than those in the local department store and over time this will become noticeable. Invest in a fitted suit and it will last you much longer and be much better overall. Remember with a good suit you can wear it over and over again.
Invest in a fitted suit and it will last you much longer and be much better overall.
3. More Stylish and Fashionable
Do you really want to go to a major function only to be dressed the same as everyone else. Department stores stock standard suits which are basic as possible to have more sales, with this they don't look as fashionable and stylish as those made by websites such as Edit Suits. With a bespoke and fitted suit it can requested to add buttons, lapels, vents, cuffs etc unlike a standard suit.
What are you waiting for, go and express yourself by getting scheduled for a custom suit, we are certain you won't regret the choice.