Refreshing Summer Drinks To Enjoy Whilst Watching Wimbledon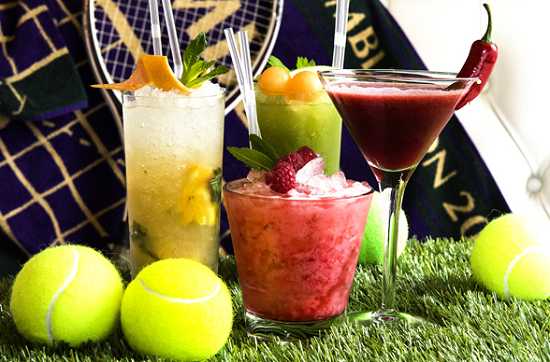 Wimbledon has already started and the U.K has tennis fever hoping for a final with Andrew Murray. The sun is shining around the country and over the next two weeks many people will be enjoying the weather. With this we have decided to give you some of the best cocktails that you should be enjoying whilst watching the tennis.
Most people associate Wimbledon with strawberries and cream  with over 28,000 kg (140,000 servings) of English strawberries being sold in the 2 week period.  Pimms is also the drink of choice at the tournament with 320,000 glasses being sold.
Enjoy the tennis a little more over the next few weeks and try some of our favourite cocktails which are fantastically refreshing:
Tequila Sunrise
If you like to have a classic cocktail then the tequila sunrise will offer you just that. With a mix of several flavours this is a perfect drink to make all year around but even more so when Wimbledon is on!
Cocktail Ingredients
4 Parts Orange Juice
1 ½ Parts Tequila Blanco
1 Dash Grenadine
1 Slice Orange
1 Whole Cherry
Elderflower Sparkle
There is no other drink that tastes of the English summer in a glass than one which contains elderflower. This is a personal favourite of mine and is definitely refreshing and a perfect cocktail for any occasion this summer.
Ingredients
1 ½ Parts Elderflower Cordial
1 ½ Parts Lemon Juice
2 Parts Soda Water
1 Wheel Lemon
Sex On The Beach
Another classic which people love to drink but very rarely create at home, follow this simple recipe to bring a little exotic flavour to your party.
Ingredients
¾ Part Absolut Vodka
3 Parts Cranberry Juice
3 Parts Orange Juice
¾ Part Peach Liqueur
The ingredients and drinks have been taken from the Absolut cocktails page which offers fantastic ideas and recipies.