Why Staying In Is the New Going Out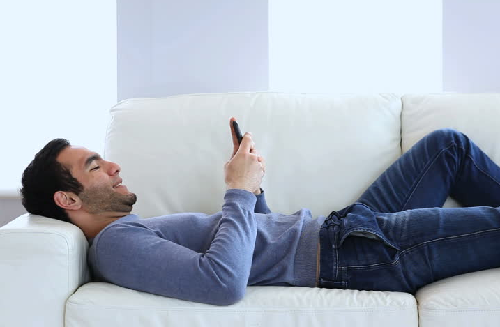 Make Your Gaming Night a Stylish One
After a hard week at work most of us need a release, come Friday evening. If you're lucky enough to work in a busy hub, you might stumble straight from your desk to the bar, thirsty to shake of the worries of the week. Or perhaps you rush to your commuter train, jump in the shower and head straight back out to your local bar. Often, suggestions of moving on to the nightclub or casino start to fly about, but an hour down the line, you're being pushed by strangers at the bar or queuing in the cold outside. 
One place that doesn't have an extortionate entry fee, a scowling bouncer and a strict dress code is your own sofa. Most stylish men love to finish the week in luxury with a quick drink at their local followed by a few games at their local casino. One way to beat the crowds is to slip into something a little more comfortable at home. Why not satisfy your gambling urge with a few online slot games for real money or just for fun, in the comfort of your own home rather than a stuffy club? For instance, the Mega Fortune which is available at Guts takes players to a world of luxury, with symbols such as the Yacht as a wild and the Champagne symbol as the game's scatter. As for Pure Platinum, which can also be found at Lucky Mobile Slots and Spin Casino, it celebrates a metal which is more precious and expensive than silver and gold – the game's symbols include a luxury watch, a diamond ring and pure platinum bars.
The recipe for a perfect lads' night in after a week of hard work has to be a comfy pair of Calvins, your iPhone for a few online games and a boxset full of binge-worthy shows. 
Your smartphone makes it so much easier to bring a top gaming night to you, without the push and shove for the local pool table. Football fans can get their fix with a game or two of FIFA Mobile, managing their team and joining a league while keeping their slippers on! As long as they're one of this season's mules or moccasins, of course. 
And it's not all just about traditional gaming or sports either: fans of fashion needn't be left out, with so many apps offering you an opportunity to put your style sense to the test. Cool Guy is a style planner and a personal assistant in one, so you can plan you next ensemble whilst wearing your onesie – and no-one needs to know.  Just think, if you'd gone 'all out' tonight, you'd be shivering in the cold! 
The final piece to your Friday night puzzle has to be a pair of Armani or Paul Smith lounge pants. You wouldn't attend a poker night or a real-life casino looking scruffy so there's no excuse not to play your favorite game in the coolest of lounge suits. The next time your colleagues suggest a quick drink as 5pm beckons, you can say "sorry, got plans" with a knowing smile, smug in the knowledge that you've got a great night ahead of you and all you need is your smartphone.