Koskenkorva ORIGINAL VODKA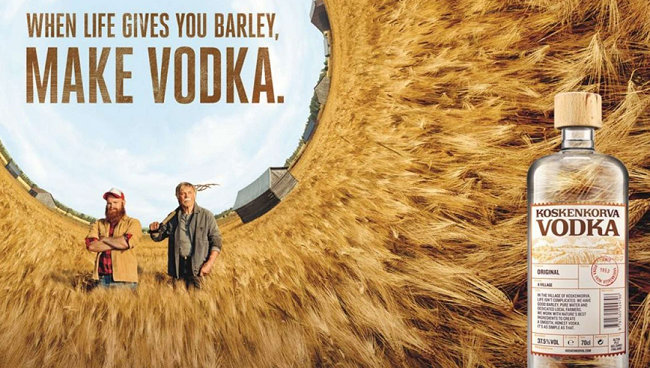 The team at BeStylish! are always looking for new alcoholic drinks to try and here we have found a premium one. Koskenkorva Vodka Original is an award-winning vodka produced in the village of Koskenkorva, 62°42'N, 22°27'E, in Western Finland that has a population of 2,100 people. It's the only globally known vodka named after the village where it's made, and has been produced since 1953.
The award-winning Koskenorva Vodka embodies the true spirit of the village in which it's made in – Koskenkorva, Finland.
DEDICATED TO LOCAL FARMERS: Over 2,000 farms produce pristine barely for Koskenkorva – all grown within 120 miles of the village. The farmers are honest, dedicated and hard-working people. Most of them have worked as farmers for generations.
LOCAL BARLEY: Koskenkorva Vodka uses the northernmost grown barley. It develops during the long light filled days of the summer ensuring the barely is ripe. The Koskenkorva distillery has its own bioenergy power plant and uses local ingredients to produce the vodka.
PURE SPRING WATER: The spring water is as pure as it gets. In the end the vodka is distilled through a state of the art continuous distillation process. This is the reason one of the world's purest ethanols does not require separate carbon filtering. The only ingredient added into the distilled spirit is pure spring water.
Koskenkorva Original Vodka is now available in the US. At 40% alc/vol, the suggested retail price is $24.99 per 750ml bottle. To learn more about Koskenkorva Vodka, visit www.koskenkorva.com and join the conversation on Facebook and Twitter.
If you have a drink that you recommend we must try then please leave a comment below and we will try, after we finish this great tasting vodka that is.