Winter Cocktail Ideas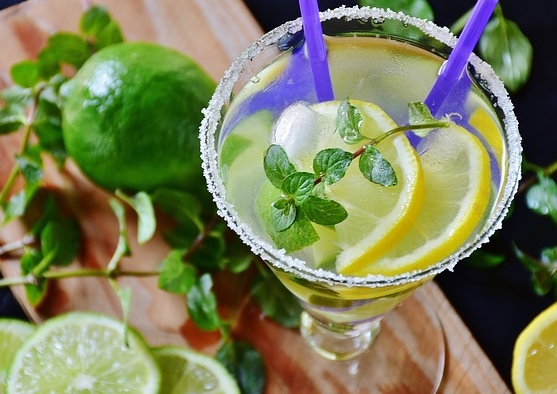 Winter cocktails are lovely, especially if they reflect the season's tiding through a masterful mix of taste, ingredients, and presentation. A great holiday drink can be achieved with fresh ingredients, good quality liquors, and long-lasting barware to shake, mix and blend some holiday spirit in a frosty, festive glass.
Winter Margarita
A summer margarita can quickly be turned into a festive winter drink with a bold addition: egg white.
The base is split between mezcal and reposado tequila. The balance of flavors is reminiscent of summer, but with a smokiness, thickness and light, a whitish color that is appropriate for those holiday parties. To make the winter margarita, a slightly aged tequila (reposado) is best, and one ounce is mixed with one ounce of mezcal. A great Mezcal to use is Del Maguey Vida. Then one ounce of lime juice is added, in addition to one ounce of simple syrup and an egg white. All of this is shaken, but not with the ice at this point. After it is well stirred, then all the ingredients should be shaken with ice. Then once should strain the drink into a festive glass that is rimmed with salt, or sweetened salt and served cold.
Elegant Champagne
A gorgeous, elegant and refreshing drink for the holidays is an Elegant Champagne. If one is looking to set a mood that is pompous, sophisticated and celebratory, a glass of this champagne is sure to set the mood. What is needed is four ounces of sparkling white, dry prosecco wine, one cute of sugar and Angostura bitters. Before serving the wine, the sugar cubes should be soaked in Angostura bitters within the champagne flute. The champagne flute should then be filled below the brim and garnished with a twist of lemon.
Bailey's Chocolate Mint Milkshake
Peppermint and hot chocolate go hand in hand during the winter season. Peppermint adds zest, refreshment, and life to any cold season, while hot chocolate offers comfort and usually warmth.
In this drink, hot chocolate serves as a decadent vessel for the real star of the show? Bailey's Irish Cream Liqueur. This drink uses one cup of vanilla ice cream, one-half cup of Bailey's Irish cream, one tablespoon of cocoa powder, one-half teaspoon of peppermint extract, whipped cream, and crushed peppermint pieces or Andes Peppermint Crunch Baking Chips. A good quality blender should be used to blend the Bailey's cocoa powder, ice cream and peppermint extract. It should be mixed until it's very creamy and smooth, with no apparent lumps. After this, the mixture should be carefully poured into a glass, topped with whipped cream, and then decorated with peppermint pieces. One can also line the glass lightly with light agave sugar syrup and then dip the class into a bowl of candy cane pieces to rim the glass surprisingly, and stick a peppermint cane in the drink.
These three holiday drinks are sure to surprise guests, especially if they are presented in a beautiful, winter-festive way. Using appropriate glasses and high-quality bar-ware exudes confidence, class and season's tidings at any winter party.