Five things to consider when buying a shed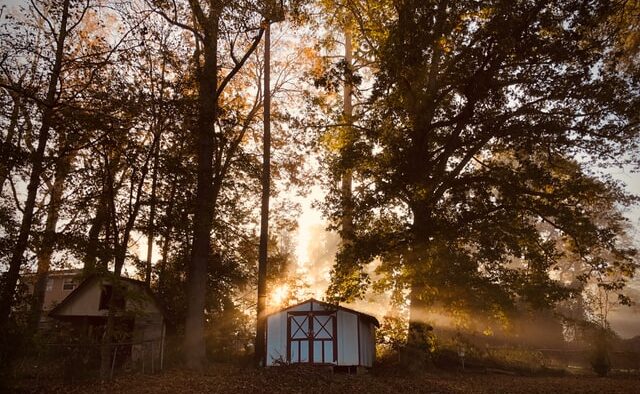 Sheds are a useful addition to any garden, with a variety of purposes. Over the last decade or so, sheds have become an increasingly popular addition to homes, providing a useful space for storing items out of the way. More recently, sheds have grown to become an additional room, used as an office, or as a children's area away from the main house. A well thought out shed can add kerb appeal to a home, as well as value when coming to selling the house on.
Top uses for sheds
1. Storage and safety
An excellent space for storing seasonal items, like Christmas decorations, and keeping suitcases out of the way. It also means that yard items, like lawn mowers, bikes, and garden tools can be stored safely and keep the space neat and tidy.
2. Kids playroom
Kids will make the space into a fun playroom, leaving the adults to quiet enjoyment of the house.
3. Hobbies and creativity
A shed will provide the perfect space for a hobby like sewing, crafts, or woodworking, to name but a few. Having a dedicated space that can also store the equipment required is bound to help get people motivated to take up new hobbies and allows people to be creative.
4. Home Office
A home office or study is a useful addition to any home, and a space away from the main house helps separate work and home life.
5.  Entertaining space
Sheds can be used to provide an inside space outdoors for barbeques and entertaining guests.
What to consider when choosing a shed
1. Purpose
The first thing to bear in mind is what the shed is going to be used for. A shed solely for storage purposes will not need windows, but may benefit from internal storage shelves, whereas a shed that is going to be used as a home office will need windows and electricity. The end use of the shed will also determine its size; does it need to be big enough for someone to stand up in? Will it need utilities? What kind of door will it need?
2. Quality versus Price
Though a more expensive shed does not necessarily equal better quality, there is some correlation between a higher price point and a better quality, longer lasting shed. There are however some places where a good quality shed can be found for a competitive price, often featuring premium materials able to withstand all weather conditions and with warranties to protect the consumer.
3. Aesthetics
What the shed looks like is also important; it needs to fit in with the rest of the garden and fit with the house. No-one wants a stark white, modern looking shed in the traditional garden of a centuries old home, and equally an aged-wood look shed with traditional carvings will not suit a sleek new build.
Colour choice is an important aspect of this, with the traditional green being a popular choice amongst consumers. There are however a wide range of outdoor paints on the market giving an almost infinite number of options. There are blues and whites that can be used to create classic, clean looks, deep reds, blacks and greys to create contrasting, attention grabbing out-houses, as well as a variety of themes to suit every taste.
4. Installation and material
Another consideration is the type of shed; wood, composite, or metal, and whether it is a DIY job or requires a professional builder. This will be influenced in part by the purpose of the shed and if it requires an electricity and water supply. The more complex the shed, the more likely professional help will be needed.
Buyers also need to understand what base the shed will need; will a concrete base be needed, or can it simply be placed on the existing ground? Again this will depend partly on the purpose of the shed, as well as the local weather conditions, and suitability of the existing ground (for example, if there is an incline or unevenness).
5. Security
Unless the shed is placed in a secure back garden, most buyers will want to be able to store valuables in the shed and must be able to lock it and know that it will be secure. The type of doors on the shed, as well as the lock mechanism will be important factors when choosing a shed.