10 Amazing Reasons To Plan a Trip To New Zealand Today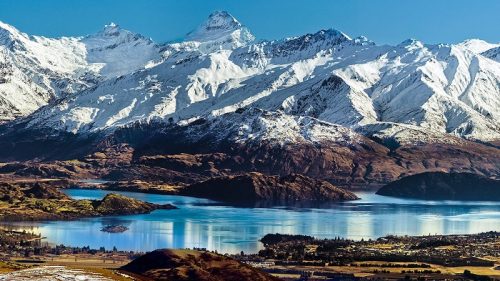 New Zealand is a beautiful country that has a number of spectacular features that makes it a desired place to visit. After all, it wasn't chosen to be the film location for "The Lord of the Rings" for nothing. Located southeast of Australia, follow our guide below on the top 10 most common reasons to visit New Zealand.
1. Climate
New Zealand has what is known as a temperate climate. This means that it is coldest in southern regions and warmest in northern regions. However, daily temperatures usually range from 54 to 76 degrees Fahrenheit. Plus, New Zealand's long, hot summers make it an ideal vacation stop for its stunning beaches. Not to mention, it's cold winters make it the perfect spot for snowboarders and skiers alike. It's autumn and spring seasons also make it a worthy traveling spot for the lush country landscape.
2. Culture
In 1769, New Zealand was founded by Captain Cook and was populated by the country's natives known as the Maori. Since then, New Zealand has adopted a number of South Pacific cultures with a heavy Maori influence. You will notice a majority of the country's changing cultural influences in restaurants and cafes, especially in the city Auckland.
3. Scenery
New Zealand is made up of two main islands, as well as a number of smaller ones. However, the country's scenery has a large number of beaches, forests, glaciers, mountains, and pastures as the eye can see. Plus, there are also a number of hot springs, volcanoes, and fjords, which makes it one of the most beautiful and amazing places to visit on Earth.
4. Wildlife
New Zealand was created by a split landmass that previously joined Antarctica and Australia together, roughly 85 million years ago. However, as a result of the split, the species of plants and birds that are found exist nowhere else in the world besides New Zealand. Not to mention, the country's forests are full of plant life, such as the ancient Kauri trees. Also, New Zealand is a known home to the Kiwi, the country's national symbol.
New Zealand is a country so diverse and so beautiful that there's no wonder it its  always on the top of many traveller's lists.
5. Safety
There is very little crime in New Zealand. In fact, there are far fewer issues for women's safety while traveling than anywhere in the world. Plus, if you're hiking in the wilderness, there are virtually no dangerous plants or creatures. Not to mention, New Zealand is one of two countries that has no snakes living in it. So, if you're planning on traveling here, you'll be glad to know how safe you will be.
6. Wine
The country is known worldwide for its wine. There are tons of wineries to tour and tastings to attend throughout New Zealand. Head to Marlborough and Hawkes Bay to see the leading wine regions in the country.
7. Travel
What could be more fun than jumping in the car and exploring the country? Whether you are driving from one attraction to the next or heading out on one of the New Zealand road trips, you are in luck. Major attractions are all connected by a network of roads and an intercity bus service.
8. Citizens
The locals in New Zealand are extremely welcoming and friendly to travelers. The Kiwi population, as they are often referred to, is made up of a range of diverse cultures.
9. Outdoor Fun
With so much beautiful landscape, you may be shocked at just how much you can do. Nowhere else in the world can you go skiing and surfing all on the same day. In fact, you could do all that plus kayaking, sailing, parachuting, caving, horseback riding, swimming, and more, all within a 100-mile radius.
There's something for everyone, from the great walks to the mountains, from the hot springs to the hobbits and from the beaches to the lakes
10. Small Population
Though the country is the same size as Great Britain, it only holds 4.5 million people. The majority of the population lives in New Zealand's five main cities, which leaves tons of open land to explore and roam. This means that it will not be difficult to find peace and seclusion on this beautiful island.