Bob's Watches Review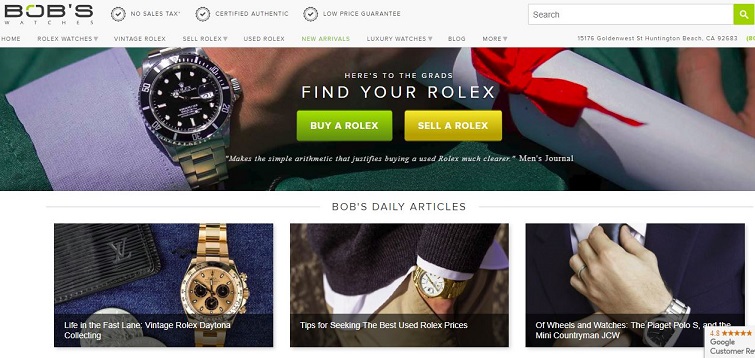 We at BeStylish.org love luxury watches and think that, if possible, every man should own one. This week we are looking at the popular online watch marketplace of Bob's Watches.
About Rolex Watches
The Rolex Watch is probably the most recognizable luxury watch brand in the world and easily noticeable wherever you are. Rolex watches are of the highest quality and can last for generations because of the manufacture. Few other brands have such style and finesse than a Rolex watch.
Bob's Watches is the largest and most trusted name in pre-owned luxury watches and jewelry
About Bob's Watches
What started out as a seller of Rolex watches has now evolved into a Rolex exchange online. Whilst the company headquarters are in Huntington Beach , California the website allows for the safe and secure transaction of watches anywhere including international orders.
For Rolex Sellers
Bob's Watches in the leading platform in the US for selling your Rolex. Don't risk selling it on Craigslist or other classified ad websites or apps. With Rolex watches being so valuable you should only use a trusted service to sell your watch. Additionally, to get the most value for your watch then use the selling process at Bob's Watches.
For Rolex Buyers
The team at Bob's Watches ensure that all items listed on the website are 100% authentic and come with a 100% guarantee on all purchases.  With such a large selection of Rolex watches available, the website is sure to have something that fits your taste or budget. Whilst Bob's Watches has hundreds of timepieces for all collections, see here for Rolex Submariner prices.
Watch Investors
The Rolex brand continues year on year to increase in brand strength, with this watches are great and solid investment options for the future. Not only does Bob's atches guarantee the autenticity of any watch they also give you full information regarding the paper's or documents which come the watch. See here for vintage Rolex watches for sale
Our personal favorite is the Daytona collection by Rolex which since it's introduction has been one of the most popular watch ranges.