8 Ways to Dress to Look Taller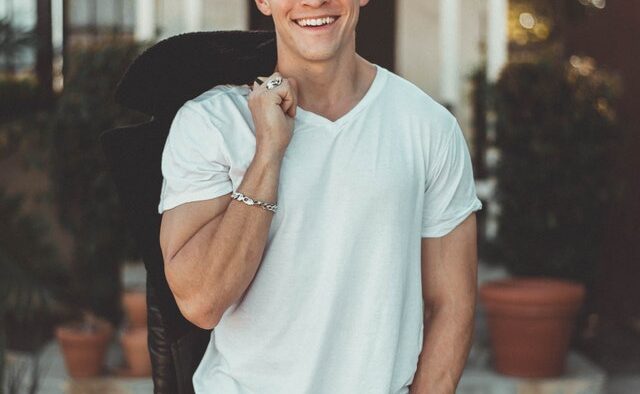 While there's only one item on this list that will make you physically taller, the way a man dresses can definitely play a huge role in how tall he looks. On the other hand, the wrong clothes can make anyone appear shorter and wider than they really are.
Of course, there's absolutely nothing wrong with being short. But, although you can't change your height, you can get the most out of the clothes you wear by choosing the cuts and styles that are more flattering to your overall silhouette.
Here are eight ways to make sure your clothes are working for your height, not against it.
1. Consider Shoe Lifts
Consider wearing shoe inserts for height – there's nothing wrong with adding a small lift in the heel area for a boost. Best of all, nobody will even know you're wearing them.
Unlike elevator shoes, you can simply slip height-increasing insoles into your regular shoes to instantly make you a few inches taller – a great option if you're spending a night on the town with a partner who loves to wear six-inch heels.
2. Wear Fitted Clothes
To appear taller and slimmer, wear well-fitted clothes and suits that lie close to your body. Baggy clothes have a way of stretching your silhouette vertically, which can make you appear wider and shorter. Removing extra bulk and fabric will give you a sharper appearance.
Avoid pants that stack up around your shoes and shirts that look more like tents. Wearing clothes that fit your form will present a more streamlined and elongated silhouette, so ditch those cargo shorts. Instead, opt for tailored items – find a good tailor you can trust and get your clothes altered if they are too big.
3. Accessorize Your Upper Body
The idea behind accessorizing your upper body is that adding a few points of interest around the shoulders, head, and upper torso will draw other people's eyes upward – creating the illusion that you have a bit more height.
Accessorize with hats, glasses, lapel pins, pocket squares, and tie pins – but just be careful not to overdo it. Too many accessories can create a disjointed and eccentric look. Stick to two or three accessories for maximum effect.
4. Ditch the Belt and Waistcoat
Don't wear waistcoats and belts that cut your body in half – pay attention to the line that defines your upper and lower body. The horizontal line a belt makes draws the eye to your middle, which gives you the appearance of being shorter.
Waistcoats and vests should also be avoided at all costs – they have a way of shortening your silhouette by creating a busy midsection, which will draw attention away from any vertical lines.
Similarly, avoid wearing shirts and pants in contrasting colors because they break up the vertical, elongating lines from your shoulders to your ankles.
5. Button Your Coat at the Waist
Choosing jackets with a high waist button will draw the eye higher up, and it will also create the illusion that your legs are longer.
Always choose jackets and coats with a high "button stance" – preferably with a button that sits well above the navel. This will raise your waistline – and it's a neat trick that Tom Cruise uses all the time
6. Wear Shorter Jackets
Ideally, a jacket will just cover the buttocks. But opting for a shorter jacket will expose more of your legs, which creates the illusion of being taller than you actually are.
Shorter jackets that don't hang below the hip are your best bet, and the good news is that there are many hot jacket styles this season that also happen to run a bit shorter.
You can choose an old classic like denim or Harrington, just stay away from heavy wool and tweed.
7. Create One Continuous Line
When choosing a pair of pants, avoid crops and excess material that bunches around your ankles. The idea here is to create one flowing, continuous line.
Your pants should fit properly around your ankles and end just above the contour of your shoe – this makes your silhouette appear as a smooth unbroken line, which will elongate and enhance the length of your legs.
8. Try Monochrome
There's a reason Kanye West always wears all black – wearing one solid color can be extremely slimming and it creates the illusion of height. This effect is because darker colors eliminate shadows, which can be very noticeable on lighter clothing.
The result? A more streamlined-looking silhouette.
With that being said, avoid horizontal stripes and large-scale prints – they draw too much interest to the wrong areas and can actually make you look shorter.