Business Class Flight Tips for the Stylish Gentleman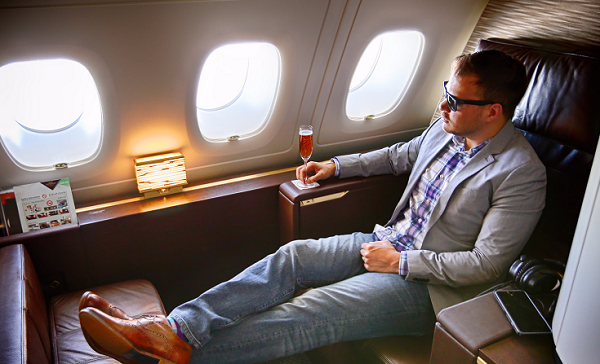 Of all the occasions in life where it is difficult to look fashionable, flying is certainly one of them. Sitting still on a long-haul flight for ten hours in a cabin with dry-as-a-bone air is certainly going to wreak havoc on your appearance.
If you're flying in business class there isn't usually a dress code these days but you'll still probably want to look respectable. Nobody wants to make a bad first impression in front of other passengers in this privileged section, some of whom may offer a unique networking opportunity, should they be sociable enough to engage in a conversation with you.
With that in mind, here are some useful style tips for gents who regularly take business class flights:
1) Acquire a stylish carry-on bag
While the majority of your clothes will be stowed away in your checked baggage, it is prudent to take some supplies aboard the plane in a carry-on bag. Most make use of sporty backpacks, but if you are looking to pull off the distinguished look on business class flights, you'll want to take something a bit smarter on board.
The Monaco Weekender by Stuart and Lau is an excellent choice, as its beige tone and authentic leather straps will make you stand out from the punters who got upgraded from economy.
If you are looking to retain the convenience of a backpack while maintaining your sense of class, you will find the suede models made by Filson to be more than an acceptable compromise between form and function.
2) Wear wrinkle-free clothing
Most people in the business-class cabin wear smart casual clothing, but what does it gain you to wear your best shirts and pants, only to have them develop unsightly lines in transit? Solve this conundrum by adding some wrinkle-free clothing to your wardrobe and avoid wearing synthetic fibers that will make you sweat. We'd suggest wearing a comfortable pair of slacks with a cotton T-shirt and blazer or knitted sweatshirt.
If you must wear a suit to your meeting, hang it up as soon as you board the plane.
If you must wear a suit to your meeting, hang it up as soon as you board the plane. You can always make use of the arrivals lounge to freshen up and have your suit pressed once you get there.
3) Make the most of your amenity kit
Business class comes with many perks, but the humble amenity kit is often overlooked and left on the plane. However, these kits contain designer products that can help you look your best throughout your flight and the bag can be re-used as a washbag on your next trip.
Virtually all amenity kits contain moisturising cream that will help guard your face against the super dry air on board, and deodorant which will keep you smelling your best.
However, the best of the lot contain razor blades and shaving gel, which will allow you to stroll into arrivals fresh-faced and stubble-free after a long haul flight. As such, looking for airlines who offer this amenity is a prudent thing for stylish travelers to consider when booking business class flights.
4) Wear a pair of slip-on shoes
While airport security has entered into the theatre of the absurd recently (the Dubai laptop ban, anyone?), we have little choice but to comply with the demands that authorities place on us, the traveling public. Having to take off one's shoes whilst going through security is one of these annoying rites, but the stylish gentleman can get through this with grace by electing to wear a pair of slip-on shoes.
These needn't be cheap or shoddy looking, as retailers like Harvey Nichols offer John Lobb loafers that are easy to get off at security, and are more bespoke than the footwear worn by 98% of the passengers on your flight.
5) Bring eye drops
As mentioned earlier, the air on planes is as dry as a bone, with humidity levels typically being below 20%.If you are going to be exposed to it for anything longer than a few hours, it will wreak havoc on your eyes. Add a night flight to the equation, and you've got the perfect recipe for bloodshot eyes. By bringing a small bottle of Visine with you in your stylish carry-on, you'll give your eyes the hydration they need to look their best on business class flights.