Reversible Vegan Fur Jackets by Velu Launch on Kickstarter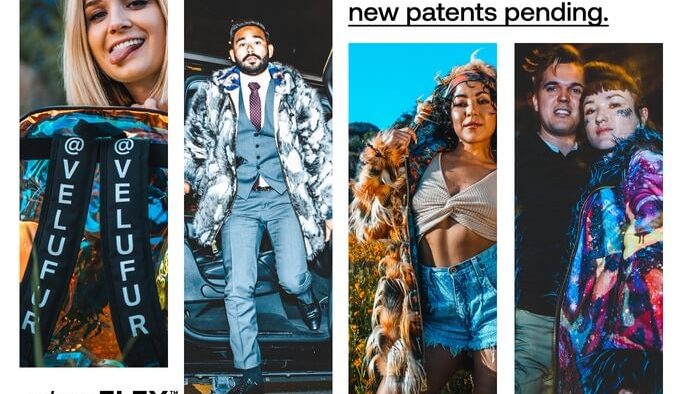 Velu has introduced its new multiverse faux fur jackets on Kickstarter – eco-friendly, reversible jackets offering cutting-edge fashion with vests and removable sleeves and boot covers to fit the mood in any environment.
Made with vegan fur, recycled plastic liners and a trademarked microFlex technology, the eco-friendly jackets offer wearers cutting-edge fashion and are designed to insulate while offering breathability, warmth and comfort, with vests, removable sleeves and boots.
Velu Fur offers reversible patents pending jackets made from 100 percent vegan fur with sleeves that wearers can wear as boot covers. The liners are printed with unique artwork and are made from a proprietary blend of recycled plastics and spandex called microFlex.
Designed to insulate wearers while offering breathability, warmth and comfort – the jackets are perfect for large gatherings such as music festivals, raves, and anywhere else with cooler weather or nighttime activities.
"We invented this product for burners," said Jordan Laub, Captain of Velu Fur. "Our crew can outlast the moon, so when we go out at night, we need clothing that can keep us warm without needing to be carried when the hot desert sun eventually hits. When the sun comes up, we put on our shades, unzip the coat, zip off the sleeves and dance until we dance no more."
Multiverse Jackets come in three styles: Chupacabra, Outcaste and Wingman, ranging in size from unisex: XS to XXL for both men and women. All jackets are machine washable. Each style is reversible, with features including:
Reversible
Hood Locks
Wrist Locks
Removable Sleeves
Vest
Boot Covers
Patented Removable Sleeves turning into Boot Covers
Included festival-proof backpack
Backpack lights up when wearer is exposed to ear damaging music levels
Ear plugs fixed to end of the hood pull cords in case of loud music levels
Metal YKK zippers
Two large cell phone pockets
Two large outside pockets
Secret Stash Pocket
microFLEX Recycled Plastic Liner
"We've also included a festival-proof backpack," Laub said. "With it, wearers can breeze through the lines this festival season with a security-approved see-through backpack. Our jackets come shipped in the backpack."
Laub adds that the Multiverse Jacket offers a variety of looks depending on the mood of the wearer and the environment they're enjoying.
"Our jackets help people showcase their inner beauty and spirit through an eye-catching fur coat," added Laub. "The coat patterns range from the calming natural tones to the vibrant festival ones that allow each person to properly display their essence and temperament without having to say a word."
Delivery is scheduled to begin this summer, in time to show off the versatile jackets for late summer fests, and for fall and winter months.
To purchase a Multiverse Jacket the early-bird discount of $149 during crowdfunding, with other discounts available for multiple purchases, visit the Multiverse Jacket Campaign Page on Kickstarter.
ABOUT VELU FUR
At Velu we aim to be your favorite, wearable work of art. From a casual night out to ringing in the sunrise on the dancefloor, our versatility and quality ensures we keep you warm, covered, and looking fresh for any occasion.
Created by Steven Haggerty and Jordan Laub, who met at a mutual friend's birthday party (and with a yin and yang type of balance to their personalities) the two became instant best friends. They shared a passion for the V.1 jacket, while both bonding over the recent loss of their fathers, and decided to partner up to bring VELU to the next level.