myCharge Introduces New Line of HUB™ Portable Chargers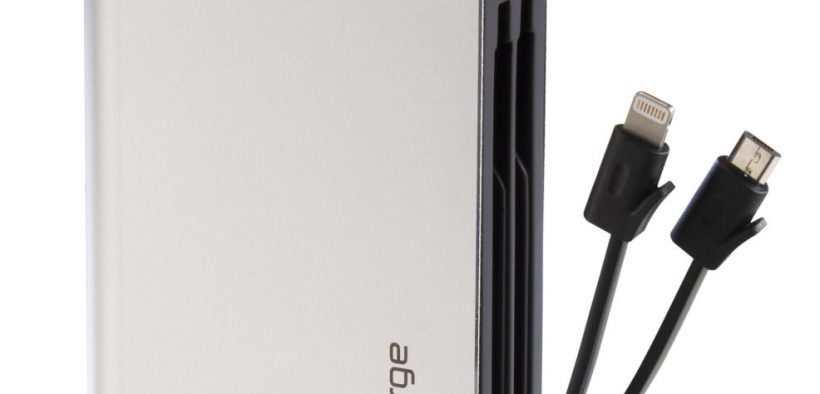 Hyper-ChargeTM Technology exceeds iPhone 6 out-of-box charging speeds
World travelers, tech geeks and multiple device users all face the same challenge of keeping personal electronic devices charged. Not only does keeping a device at full power typically require staying close to an outlet, it also means carrying around a plethora of cables and wall chargers.
The new myCharge HUB Series of portable chargers is the all-in-one charging solution that not only eliminates the bird's nest of tangled wires; it also delivers world class, industry-leading safety & performance in an incredibly small footprint.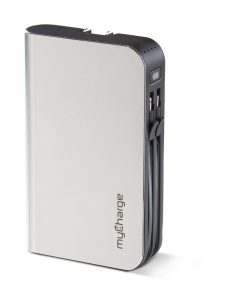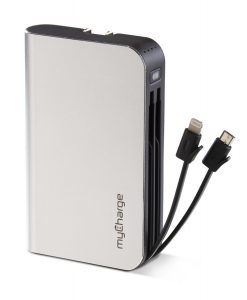 The anodized aluminum line of HUB portable chargers makes powering smartphones and tablets on-the-go incredibly convenient.  All models, including the 3000mAh HUB mini, , come with built-in Apple Lightning and micro-USB charging cables. And, the 6000mAh HUB Plus, , and the 9000mAh HUB Max models, also feature built-in wall prongs, making recharging as simple as plugging into any outlet.
myCharge's exclusive technologies deliver superior performance against all competitors, and include:
Hyper-Charge™ charges smartphones – including the new iPhone 6 Plus – up to 30% faster than the Apple-supplied charger.
Safe Cell™ Technology delivers 12 layers of battery and device protection against over-charge, under-charge, over-current, over-temperature and short circuit.
Rapid Recharge™ Technology recharges myCharge power banks up to four times faster than competitor's chargers.
Power stay™ Technology retains up to 60% of a full charge for up to one year.
SmartSense™ Technology ensures device compatibility eliminating those annoying "not compatible" messages as seen from many chargers in the market.
Parallel Charging Technology simultaneously charges a mobile device and the charger at the same time, minimizing total charge time.
Prices of myCharge
HubMax- $99.99
HubPlus- $79.99
HubXtra-$69.99
HubMini-$49.99
"Our HUB series of battery chargers delivers everything a mobile device user could want in a backup battery charger," said myCharge President Jim Dara. "From built in charging cables to integrated wall prongs and massive power storage potential, the HUB series is the 'dream charger' for the true tech junkie or world traveler."
The HUB line of battery chargers is available for purchase via the myCharge website and at retailers nationwide. More information about the Hub chargers and the entire myCharge product line can be found at www.mycharge.com.
About myCharge
myCharge, innovators in portable power create the ultimate portable power solutions for anyone, anywhere who needs to stay charged. Incorporating the highest quality components, cutting-edge design, and smart technologies, myCharge responds to the latest technological advances by providing products dedicated to restoring everyday balance and fulfilling consumer needs in today's on-the-go, always connected, digital society. Learn more at www.mycharge.com.