If You Want to Embrace Trendy Tech, You Really Need to Embrace Bitcoin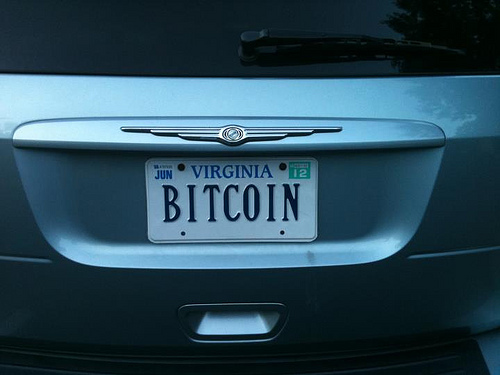 If you want to stay on trend in the tech world in 2017, there's one word you need to remember: Bitcoin. Now, for those of you who've dabbled in online currencies before, Bitcoin will already be on your radar.
First launched in 2009, the cryptocurrency was hailed as the next bastion of payment methods. Thanks to its decentralised nature and lack of any government controls, Bitcoin became the currency of choice for the cyberpunk generation. However, despite its inherent benefits, Bitcoin didn't become the hit many assumed it would. In fact, following a period of decline, Bitcoin almost fell out of existence completely.
The Bitcoin Trend Comes Back Around
"BITCOIN" (CC BY 2.0) by GlenCooper
However, just as fashion trends come back around, Bitcoin is now back and it's back in a big way. Why? Well, aside from a number of industries now exploring the possibilities of blockchain (the technology behind Bitcoin), more businesses are now accepting Bitcoin payments. When one industry picks up a "new" innovation, others quickly follow and, today, you can now spend Bitcoin on almost anything and everything.
In fact, this recent surge in Bitcoin outlets has driven up the value of the currency to almost record highs. Despite dipping after hitting a peak value of $1,161.88 on January 5, the cryptocurrency has continued to put in a bullish performance in the financial world this year. On February 7 the price jumped by 1.6% to $1,055 and, with China currently consuming Bitcoins at a record rate, experts believe it could reach new highs in 2017.
Pay Your Way with Bitcoin
"Bitcoin ATM" (CC BY-SA 2.0) by zcopley
Basically, if you're looking to stay on top of the latest tech trends, you need to invest in some Bitcoins. Of course, once you've jumped on the bandwagon you'll also want to spend them. With this in mind, we've picked out three cool places you can spend Bitcoin in 2017.
Cash Casino Chips Online – James Bond will always be a style icon and when he wasn't cracking crime rings, he could often be found in a casino flirting with lady luck. Although live casinos don't accept Bitcoin bets, you can go online and do your best Bond impression.
VegasCasino.io is one of the world's only Bitcoin casinos. Unlike some sites that allow players to make Bitcoin deposits, VegasCasino actually accepts bets in the cryptocurrency. Whether it's European blackjack or Satoshi's Secret slots, there are more than 150 ways for you to become the next Bitcoin Bond.
A Pint in Cambridge – Although Bitcoin is an online currency, that doesn't mean you can't spend it in the real world. Thanks to mobile apps and clever Bitcoin wallets, you can now enjoy a pint or two in the UK's leading university city. Although the Pembury Tavern in Hackney was the first place to accept Bitcoins for pints, the trend has since spread to Cambridge where regulars can now pay for their favourite tipple at the Haymakers and the Devonshire Arms.
How does it work? Simple: after choosing your drink, the person behind the bar will hold up a scanner where you hold your mobile phone. Much like the touch-and-pay systems you'd use with your traditional bank account, this scanner deducts credits from your Bitcoin balance (stored in the app) and the drink is paid for.
Jet Off with Bitcoin – Booking a flight with Bitcoin couldn't be easier with CheapAir.com. After integrating a Coinbase-powered widget on its site in 2013, the New York based company has been giving jet-setters the chance to fly to more than 50 destinations. In fact, as well as being the first travel agency to accept Bitcoin payments, CheapAir also created a voice-enabled mobile app so users can book a flight with a simple sentence.
Technology is constantly changing the way we live our lives and Bitcoin is no different. Although it got off to a slow start, the recent explosion of payment options means that it could soon become the currency of choice for the modern consumer. So, if you want to stay stylish and on trend in the tech world, you should make sure you join the Bitcoin revolution.