How To Choose A Buddhist Bracelet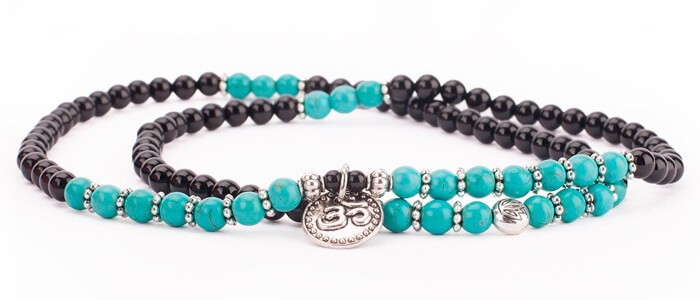 Buddhist bracelets have always been a real relic for all the followers of the Buddhism religion. Using bracelets for practices, Yogis approach the sacred purpose – find their true calling, purify their mind and soul and become more serene.
Buddhist bracelets are called mala. They often differ from each other by the form and color of their beads. It's a known fact that buddhist bracelet color meaning plays a great role when choosing mala, however it's also worth paying attention to the material the beads are made of, since every material carries diverse meaning and has a different influence of a person's life.
Buddhist Bracelets: The Meaning
Most of the beads are made of seeds, wood, bones, stone or metal. It is believed that mala beads made of juniper, red coral and lazurite protect people against evil spirits and their negative influence. Bracelets made of wood, rock crystal and pearl are an excellent choice for people who want to become more serene and healthy. Golden, silver, copper, amber bracelets increase lifespan as well as promote profundity of thought.
Bracelets are not just an eye-catching jewelry made of multiple beads; they have a deeper, sacral meaning.
There are lots of diverse mala beads colors specifically for different mantras and the way they work.
White color is for healing. It promotes calmness and tranquility. White beads can be made of crystal, white glass, sandalwood or bone.
Yellow beads which may be made of gold or amber are responsible for energy, that's why yellow mala beads are usually used when reading mantras intended to promote development, boost energy level and multiply wellness.
Red beads, such as made from red sandalwood or red coral, are responsible for power and strength.
Grey, green or black beads are used for stress relief and neutralizing negative energy.
Bone mala, which is really rare, is usually worn by people in search for happiness and love.
Bracelet is not just an eye-catching jewelry made of multiple beads; it has a deeper, sacral meaning:
it protects its owner against negative influence and energy;
it helps become fearless and develop inner well-being;
mala makes its owner more confident;
it helps find the meaning of life;
mala makes its owner healthier and help overcome diseases;
it purifies the aura.
Buddhist bracelets help you find inner harmony which will make it possible for you to balance your life and make all dreams reality.
Modern Mala Bracelets
Modern bracelets, such as Shamballa, are made using diverse beads – wood, glass, stone, etc. Single row and double row bracelets are the most widespread ones, however it is also possible to find a triple row mala, which is considered to be a more unique type. The beads color may vary depending on their meaning. Diverse colors and shades are usually relevant to a person's mood and character traits he or she has or would like to develop:
orange is for positive attitude to life and fortune;
blue is for wisdom and relaxation;
green is for harmony in life;
purple is for self-development and self-improvement;
red is for energy and activity;
pink is for love and romance.
Some people believe such bracelets may also be used as mascot and help them easily achieve the desired result.