Jack Spade Has Some Intriguing Colored Watches For Us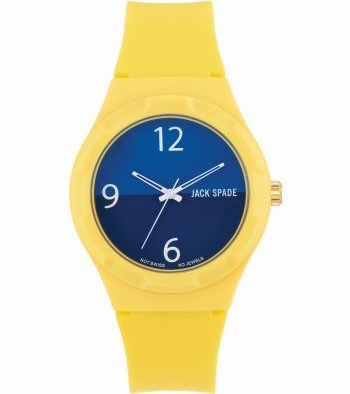 There's just something about an outfit that has drops of color. Maybe it's the union between classy and boldness that's so attractive.
Nevertheless, the more ways to introduce drops of colors into our day-to-day outfits the better. One of those ways is represented by, of course, colored watches. We talked about the basics of men's watches a while back, if you think you need to focus on the nitty-gritty.
That being said, let's see some of Jack Spade's colored watches.
Let's start off with this bright yellow and blue watch. It's simple but you have to be careful. The color is pretty trong so don't try to match this with a yellow t-shirt or anything.
If you want, you could match it with a yellow pocket square or a tie. Or, if you're a tech fan, a yellow Nokia Lumia (which is very popular at the time of writing this article) would match nicely.
This second red and blue watch is also pretty nice. Normally you don't want to wear red and blue in huge amounts but in smaller quantities they are perfectly fine.
I can almost see this watch on my wrist with the outfit I wor today (bright blue jeans, black leather jacket and red pocket square).
Green and blue is another pair that works well in outfits. It's one of the color combinations taht I encourage you to experiment in your outfits on a current basis. You can add either black, brown or gray to it to finish the look. I would definitely wear this watch with a white shirt, but not at the office. In fact, I recommend you never wear such a watch with your business, smart casual or business casual outfits AT ALL.
One thing I want you to notice as you look at the collection is that the red+ green color combination is missing. As you probably know, this is a combination that one would wear around Christmas and should be generally avoided for teh rest of the year.
This last one is interesting. The camouflage print is trending in 2013, although a huge amount of people consider it to be childish. Keep in mind that the item below is in no way a military watch as it lacks the strength, water resistance and all the funcionalities that such items usually have.
Would you wear a camouflage watch?