Cheltenham Style Guide 2017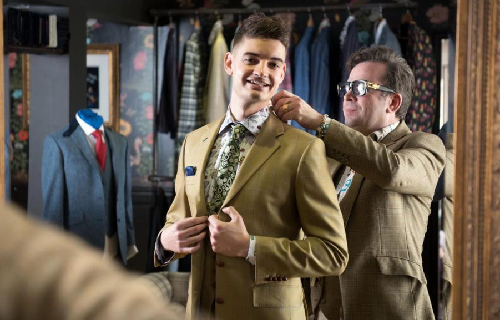 Cheltenham is finally upon us and what a fantastic start we got off to as Buveur D'Air strode ahead to take the Champion Hurdle race. No doubt punters have been looking at their options overnight to line up the biggest winners for day 3.
Now into St. Patrick's Thursday however, it's not only about where to find the best Cheltenham odds. Equally as important is what to wear! This can be a little daunting but our handy guide here should offer some reassurance.
This season, there's a prime focus on masculine elegance, think wide lapels and ties. A crisp French blue suit has replaced the classic navy version, and in terms of fitting, skinny fits are very popular. Brands that are carrying some great blues at the minute include the likes of Hugo Boss, Arthur Galan, Dom Bagnato and McQ Alexander McQueen. If you're looking for something a bit more high-street, Topman offer some brilliant pieces.
The switch to French blue is just the start of the adventurous fashion trends this season. Many alternative suit pieces are also receiving attention.
Loud checks suits, for example, are prominent. From micro-ginghams to large window pane, two-tone checks to mix and match tailoring, these styles are all the rage. To help, aim for a clash of textures such as combinations of wool, linen, cotton and silk.
Now that you've nailed your suit, it's time to pick a shirt.
You can never go wrong with a classic white or simple pale blue with a spread colour – these are the safest options – but if you're looking to venture a bit more out there, do so by introducing a wide stripe or that check look.
The colour palette that stripes tend to mix with include red, white, navy and black. But if stripes aren't you're thing, it's slowly being replaced by checks and florals.
Another option is a colourful shirt and tie combination that will help bring your outfit together. Overall just don't be afraid to wear bold colours with confidence – the trend is at an all-time high in men's fashion.
It terms of your tie, a tightly knitted one can help make or break a suit. Moreover, choosing the right colour of a tie is pivotal to your look.
If you've chosen a colourful shirt then opt for a soft tie; a soft shirt then go for a bold tie.
Accessories are the key to help bring your suit to life and a tie isn't the only thing you need to concentrate on. There are hats, cufflinks, belts and pocket squares to consider. Such pieces are the perfect opportunity for pops of colour such as pastel green, yellow, pink and orange…add some sunshine to your outfit, after all, spring is coming.
Finish your outfit with a smart pair of leather brown brogues or loafers. Though, be sure to avoid footwear that is chunky or features a thick rubber role.
If you're stuck on colour, a black suit generally equals black shoes, a navy suit works perfectly with brown or burgundy shoes, as does a beige suit, and a grey suit works with either black or brown.