A Man's Guide to the Perfect Proposal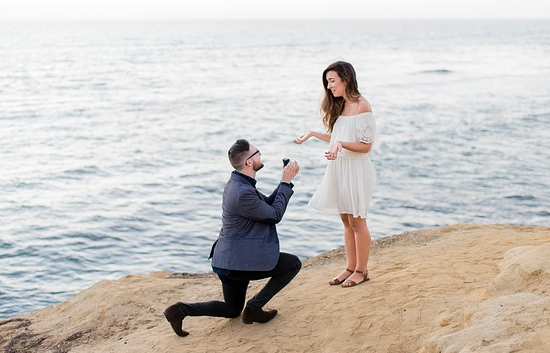 Asking the love of your life to marry you is both exciting and terrifying. It's arguably one of the most important moments in both of your lives, a day you'll remember forever. If you've spent months scrutinising diamond engagement rings and you've finally found 'the one', the next step is planning how to ask the big question. So, if you want to make your proposal personal and make sure you've got a good story to tell your grandchildren, where do you begin? Here are our top tips for planning the perfect proposal.
Know That She's Going to Say Yes
It might seem like it's taking the magic out of the moment, but you really want to be sure that you are both ready to take this next step in your relationship. If you've reached the stage in your relationship where you're considering getting married, the chances are the topic has already come up once or twice. Whether you've enthusiastically planned your dream wedding or simply talked about whether your partner even wants to get married, this is a good indicator that the answer is going to be yes. Pay careful attention to how you both speak about the future. If it's clear that the pair of you are planning ahead for the long-term, that's when you know you're ready.
Don't believe the divorce rate myths either, 70% of marriages beginning in the 1990s have reached their 15th year!
Plan Ahead
So, you know that the answer is going to be yes. Now you need to pick your moment perfectly. Spontaneity is over rated! Consider what's going on in your lives, if your partner is stressed out over their job or personal life, then your proposal might not go down as well as you'd like. When you think the time is right, plan a proposal that is a reflection of your relationship and think about what your partner would really like from this treasured moment. If they are a quiet, reserved person, it's unlikely they're going to appreciate an all-out public affair. Sometimes, less is more.
Pick Somewhere Special
The location of your proposal is crucial. A destination proposal can make the affair memorable, but you don't necessarily have to be watching the sunset over the Caribbean Sea to make the day perfect. Picking somewhere beautiful and personally significant, such as the park where you went for your first date or the place where you went for your first holiday, is a winning combination. Try to choose somewhere where things won't go wrong, as you'll be nervous enough as it is without the extra stress of dropping the ring in the sea or being interrupted by a well-meaning tourist!
Tradition
If you think your partner would appreciate you sticking to traditions, or they are very family-orientated, consider asking their parents for their blessing before you ask them to marry you.
Don't forget to get down on one knee! Nobody knows why we actually do this, but it's thought to date back to medieval times, during the days of knighthood and chivalry.