Top 5 Destinations for a Bachelor Party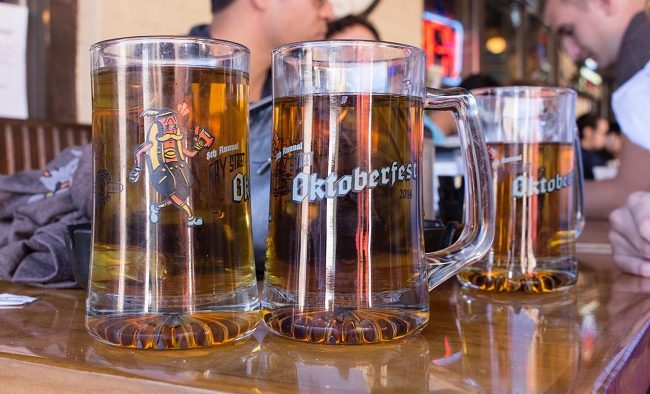 First ideas aren't always the best: self-annihilation and degradation are not necessarily the way you want to remember a bachelor party.  Yes, it is a symbolic last burst of freedom but it's only symbolic, there will be opportunities in the future to get drunk and hang out with your mates.  So really it should be more about having a memorable time.  Here's five locations where you can do just that.
Munich Oktoberfest
Actually, the world's biggest folk festival, yep that's right, it's a folk festival, runs from mid-September and is pretty much finished by the start of October, but maybe Septemberfest doesn't have the same ring about it.  It's the scale of this event that will ensure a memorable experience: six million visitors, seven million litres of beer, a hundred oxen.  Essentially, it's about sitting at a bench in a vast tent drinking beer, eating giant pretzels, cooked chicken and bits of oxen, surrounded by people in lederhosen and dirndls and having a whale of a time.  There's a reason why it's so popular but maybe you'll have to try it for yourself to understand.
A London Pub Crawl
A British pub is a unique institution and the finest examples of this endangered species are to be found in the nation's capital.
A central London walk of just over a mile will enable you to experience six of the city's finest boozers.  What better way to spend an afternoon?  And when night falls you can either hit the dance floor of a nightclub or laugh yourselves silly at a comedy club.
Las Vegas
Vegas is a bachelor party.  It's got everything a boy could want and more.  The most famous casinos in the world: Caesar's Palace, The Bellagio, The Golden Nugget.  Some of the finest dining you'll find anywhere: the 3 Michelin starred Joel Robuchon Restaurant, where a sixteen-course menu will take you over three hours to consume.  Extraordinary bars such as the Mermaid, where a huge tank is filled with, you guessed it, mermaids.  Equally extraordinary museums, such as the Imperial Palace Auto Collection where you can see Hitler's merc, JFK's Lincoln and cars which belonged to Howard Hughes and Al Capone.  And then there's the outrageous hotels, the spectacular entertainment…just do it.
Amsterdam
I know I said it's not about self-annihilation and degradation but Amsterdam doesn't have to be like that.  I am aware that many young men have visited the city solely for the purpose of being able to imbibe a substance prohibited elsewhere.  I am also aware that the sex trade is very much in the foreground of this city, but there's a lot more to this city than shows and coffee shops.  The centre of Amsterdam is old, beautiful and full of great bars and places to eat.  A canal cruise, with a few beers is a great way to enjoy the unique appeal of this city.  And if you enjoy art, let's bust a few stereotypes here, then Amsterdam has several museums you really shouldn't miss.
Prague
A very popular bachelor party destination and for one very good reason.  Whereas your litre of beer at the Ocktoberfest will cost you in excess of ten euros, in Prague it'll more likely be two.  Like Amsterdam, Prague has a fantastic old city and it's wonderfully easy to walk.  If you do need the metro, a twenty-four-hour ticket will cost you all of three euros.  Or if you feel the need of a little exercise you and your mates can visit the bars, clubs and casinos on a gargantuan beer bike.