Casino Etiquette: The Ultimate Casino Dos & Don'ts List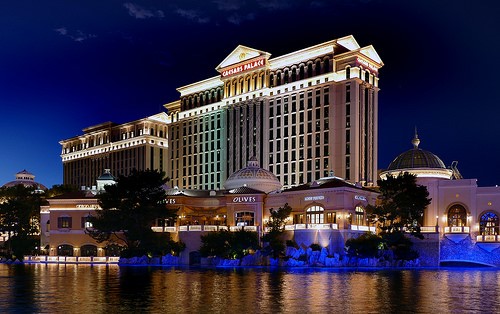 "Caesars Palace Las Vegas." (Public Domain) by Bernard Spragg
Here at Be Stylish, we cover a wide range of topics from fashion to tech and travel to dating tips. One topic that we've discussed in a mixture of ways is casinos, of both the online and brick-and-mortar varieties. Should you play online or visit your local casino? Will internet-based operators take over the traditional venues? What the heck are you actually supposed to wear to a fancy casino? We've discussed all of it, but one thing we've never covered is casino etiquette. Considering a quick Google search reveals that plenty of people break the rules by doing everything from stealing chips to literally attempting to beat up slot machines, we thought it was about time we did.
1. Turn Your Mobile OFF
"Planet Hollywood Casino Entrance" (CC BY 2.0) by Roger Schultz
It's true that these days more entertainment venues are allowing you to enter with your mobiles on, but there are still some where talking or playing on your phone is frowned upon. These include cinemas, theatres and, you guessed it, casinos. Not all casinos ban mobile phones or even ask you to turn them off, but it is expected that you will at least put them on silent and avoid sitting at a poker table while on your phone.
One related issue that many of the world's top casinos do ask you not to do is take selfies, or any photographs of the gambling floor for that matter. Casinos are incredibly secure establishments, which makes sense as there's usually a lot of money onsite and they don't want potential baddies to have the upper hand due to photos or videos. So, if you're visiting a casino maybe leave the selfie stick outside.
2. Don't Turn Up In Your Pyjamas
One of the most celebrated positives of playing at online casinos is that you can wear anything you like while you play. Pyjamas, tracksuits and slippers are all appropriate for playing at sites which offer free spins on slot machines like Rizk, Thrills and Casumo, heck click here for more places where you could literally be wearing your birthday suit and still continue to play. However, when visiting a brick-and-mortar venue, things are a little different.
Before visiting your casino of choice, do a little research into whether the establishments has a strict dress code. If it does, make an effort to adhere to it or else you could risk being thrown out. If it doesn't though, simply go for casual-formal; that means a shirt with smart trousers combo, an appropriate dress or a nice top and skirt are sure to be sufficient. As for footwear, the golden rule is to avoid wearing trainers to most high-class places, so bear that in mind.
3. Respect the Staff and Your Fellow Players
"Suncoast Casino & Resort" (CC BY-SA 2.0) by J.R.Ramos
There's no denying that visiting any gaming venue can be frustrating, especially if you are not winning. Anyone who grew up in the 1970s and 80s will know how rage-inducing arcade games could be and anyone with a console has probably been close to chucking their remote through the TV more than once. That said, keeping your composure and respecting staff as well as other players is perhaps the number one rule at all casinos.
Ultimately, when you're playing a table game at any casino the dealer is always in charge, regardless of how much you wager. When waiting staff bring you your drink and deliver great service as well as your beverage, they deserve to be tipped. Your fellow players expect you to remain composed and polite throughout all of your games, as they are here to have a good time even if you are not.
We know that chances are you already knew all these, in which case this article is more of a reminder than anything, but for anyone who is visiting a casino for the first time it is essential to know these three handy dos and don'ts. Of course, we're sure we've missed some out so if you can think of any please let us know in the comments below.