Linen – The Fabric That Makes You Feel Cool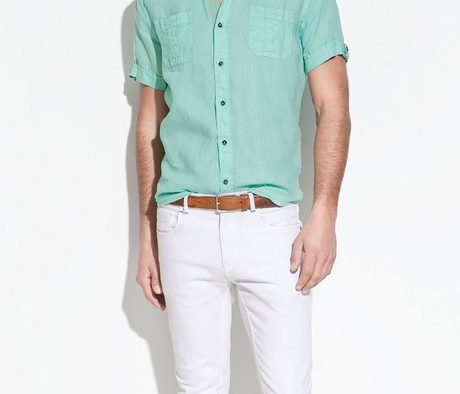 photo: Zara shirt
Just like the title says, linen will help you feel cool… literally. We all know that linen allows for better air circulation but how many of us have intentionally looked for it when shopping?
Most clothes nowadays are either cotton, polyester, or a combination of both. Finding a linen shirt or – God forbid – a linen suit is more like trying to find the Rosetta Stone.
OK, now you're probably asking yourself: why on earth should I waste my time looking for linen garments when I could just as easily get them in cotton and get it over with? Cotton is also a natural fiber, what's wrong with that?
There is absolutely nothing wrong with that. But I do have a few reasons that will definitely change your mind.
The first one is comfort. When you put on a linen shirt, if you're not a style student, you might not even feel the difference. However, when you're outside, you will surely feel the air currents better than you would in a cotton shirt.
If you happen to live in an area where you get at least a few weeks a year of really hot days, linen will feel like the only fabric your body will not reject.
The second reason is its antibacterial properties. IN short this means they will not catch smell as easily as cotton does. This is more apparent with linen socks, which, for reasons that will be discussed later in this chapter, I don't recommend.
Third reason for wearing linen is simply the idea of having a wardrobe suitable for any season and meteorologic conditions. It's about taking care of stylish details that are not apparent for others but, rather, for yourself.
Just like you wear umbrellas or hats or caps when it's raining… just like you wear suede only when it's not… and just like you wouldn't wear sneakers and trainers in winter like some guys do… similarly, you want to wear the right fabric for the right season.
And since wool is mostly for winter (although some wool works in the summer too), cotton for every season (but it depends on how thick it is), linen should be kept for summer or hot autumn and spring days.
Fourth, fifth and sixth, linen offers good UV protection, is non-allergenic (if you ever got rashes from synthetic fibers this you should definitely give linen a try) and non-static, which means it does not accumulate static electricity that you sometimes feel when you take of a sweater, for instance.
Lastly, linen is eco-friendly. Almost no pesticides at all are used to grow it, unlike cotton fields which, according to a statistic I found, accounts for 50% of the World's pesticide use.
OK, that's a lot of reasons to wear linen. But let me give you one last reason: price. You'll find that most linen garments cost about the same as their cotton versions. So why not mix things up a bit and get one right now?
Clothing items
If I succeeded into motivating you to give linen a chance, you're probably wondering what clothing items come in this fabric? Quite a lot, actually:
shirts
suits
pants
shorts
ties
pocket squares
In addition to those, I also mentioned linen socks earlier and I told you to avoid them. Pretty much anyone who's ever owned a pair complained that they don't hug the foot very well. This is both weird and uncomfortable.
If you do want to try them out, I recommend you find a pair that also has some spandex in it, this will help alleviate the problem.
If you don't know where to start, I recommend you start your hunt with a linen shirt. The part of your skin that feels most uncomfortable during summer days is your torso, so that should be tackled first.
As you can see in the photo above, the blue line shirt has some wrinkles. Unfortunately, these are inevitable no matter what you do and, unless they're too obvious, you shouldn't worry about them.
Here's another line shirt. Notice the casual nature of it, most linen shirts are designed to be worn in casual encounters:
As a curiosity, not that I recommend you wear this, a very popular linen shirt is the guayabera. The interesting thing about it is that it actually has 4 front pockets. Way too much for someone who's looking to be stylish. However, this type of shirt is very popular in Central America as well as Southeast Asia. Here's what it looks like:
photo: mycubanstore.com
Below you can see a pair of linen shorts. The wrinkles are a little too obvious for my taste but, nevertheless, they look amazing:
Here's a very refreshing outfit featuring a line sports jacket and camo shorts: