5 clothing tips for bigger males trying to look slimmer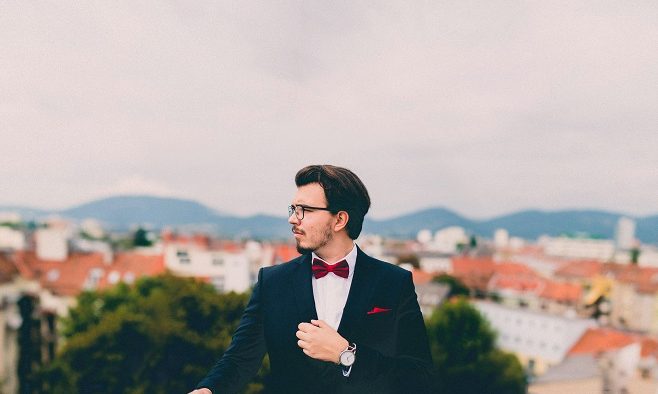 There are many different reasons why you might be eager to find ways of making yourself appear slimmer. Perhaps you have recently "let yourself go", so to speak, and so want to give the illusion of being leaner while you continue waiting for those hours at the gym to pay off. Alternatively, you might just have a naturally bulkier frame. Whatever your own reasons for seeking a slimmer appearance, here are some ways in which carefully selected clothes can help.
Get back to black
The ladies seem to love men in well-kept suits – and, if that isn't a good enough reason to put one on, consider that its abundant black will have a visibly slimming effect. However, for occasions where something like a tuxedo might seem too formal, you could still sport black in other ways – such as by getting your legs into some black denim jeans. On the other hand, you could wear some black work pants – a wide choice of which is available from the online clothes store of Dickies Life.
Integrate small details to distract from the bigger issue
Look for clothes featuring small patterns and subtle designs. Little details like these can make a surprisingly significant difference. Men's Health explains that such details can benefit you because they "draw the eye in, focusing it away from the larger problem." Thus, you can encourage people to be so fascinated by those minor touches that they don't pay too much attention to your bulk.
Be so keen on pinstripes that you look vertical
Why does black work so well when utilised in all of your clothing? It's because that monochromatic colour ensures a consistently unbroken vertical line between your neck and toe. However, that job would be done even more effectively by pinstripes, which will guide an observer's gaze up and down your body's length rather than its width. Nonetheless, avoid glen plaids and windowpane suits, as these particular types of pinstripe clothing will actually discernibly fatten you.
Opt more for fitting than baggy clothing
You might – mistakenly, we would emphasise – think that baggy clothes would be especially suitable for someone of your large frame. After all, wouldn't they conceal the flaws? On the contrary, they can often attract attention to them. For this reason, you shouldn't shy away from clothes that will fit you just right – neither too loosely nor overly tightly.
Make your attire look more uniform than contrasting
Esquire insists: "Wearing different colours, shades and tones all over your body will just draw attention to each individual bit." Therefore, the men's magazine advises instead either adhering to shades of a single colour, such as blue, or sticking to darker hues.
It might not even be a good idea to show just one contrast: between your body's upper half and its lower half. You would end up with this look if, for instance, you wore a dark shirt with khaki pants. This would give you a shorter and wider appearance which is best avoided.