What Do Men Wear to the Cheltenham Festival?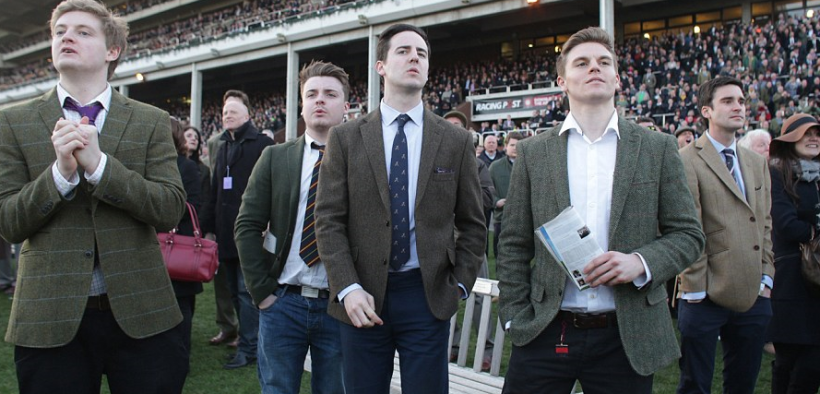 "Winners' enclosure" (CC BY-SA 2.0) by Carine06
Each year, fans of horse racing from all over the world come together to celebrate the Cheltenham Festival. The four-day festival which will take place between March 14th and 17th includes some of the biggest events of the year: Champion Hurdle Day, Ladies' Day, St Patrick's Day and Gold Cup Day. The history of the Cheltenham races is as lengthy as it is extravagant, having begun in 1815 according to the infographic below, though the first Gold Cup was not held until 1819.
Regardless of whether this year will be your first or your fifth time at Cheltenham Festival, there are always a few pre-emptive measures one must take. Firstly, you should always browse through all the Cheltenham festival races over on William Hill as they offer a comprehensive guide which goes through the horses that won last year as well as the favorites for 2017. They will also be covering each of the 28 races that will take place over the four-day festival this year, so make sure you take a look at their best odds and special offers.
Secondly, you need to have an outfit planned – and that's where we come in. According to the official Cheltenham Jockey Club website, there is no dress code at Cheltenham due to the fact most races are held during the winter and spring months, and the weather is unpredictable. They do state that gentlemen tend to wear suits or similar dressy attire in the Club Enclosure and in the restaurants, but we think that's a little vague. So, here are some more specific outfit and accessory ideas for every gentleman of Cheltenham Festival.
Tweed
First and foremost, the Cheltenham Festival is the perfect time to embrace all things tweed. Not only do many gentlemen choose to wear tweed accessories such as tweed trilbies and scarves, many others go the whole hog and bring their tweed three-piece suits out of retirement for at least one of the four days. As for the color of your tweed, you can stick with traditional greens but don't be afraid to try navy or grey if you want a modern look.
Jackets
"Chat" (CC BY 2.0) by charlesdyer
As the festival takes place during the cold month of March, you will absolutely need a jacket of some sort. Wax jackets appear to be the most popular outer attire amongst gentleman at Cheltenham races, possibly because they are a staple in English countryside style. Wool overcoats are another favorite and are sure to keep you warm in those chilly enclosures.
Shoes
You may have noticed that Cheltenham festival attire is mostly made up of earth tones and rustic fabrics, so whilst you can choose whichever shoes make you most comfortable you may want to stick with this theme. Laced, brown-leather brogues, for example, are a great option as they are sure to be comfortable as well as warm. Alternatively, Chelsea boots give a somewhat vintage-looking outfit a modern twist without taking it over the top.
Hats
"Cap" (CC BY-SA 2.0) by charlesdyer
There are simply not enough events where us blokes can get away with wearing hats, so make sure you don't pass on this fleeting flat cap opportunity. If you want to wear something a little fancier than the traditionally understated flat cap, you can always try a brown or navy wool trilby hat. Finally, if you are actually part of the Royal family you can probably get away with wearing a top hat, but we wouldn't recommend it.
There you have it! We hope we've given you enough ideas whilst allowing for some personal touches, as we don't all want to be wearing the same outfit! Let us know if you'll be attending this year's Cheltenham Festival and what you'll be wearing.