Jorg Gray Watch Review – Model 5600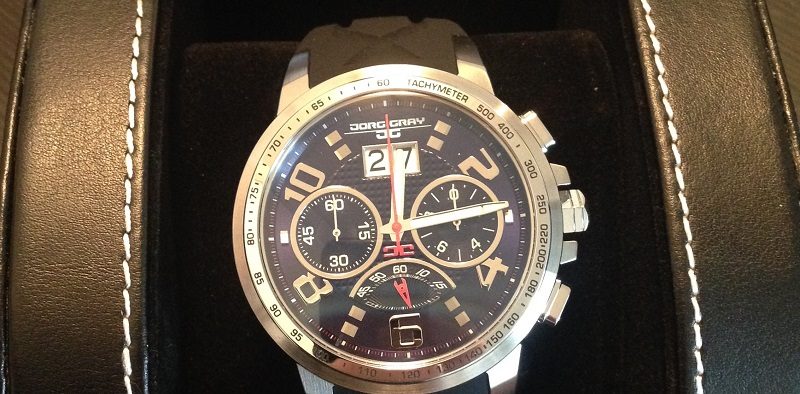 This week we worked with Jorg Gray to review the watch with model number 5600-23. Immediately upon opening the packaging it was instantly clear that this is a premium product. The most striking part of the watch for me was the face and how the date is so prominent on such a fine watch, not normally seen on others.
The Jorg Gray is the brand famous for former United States President Barack Obama wearing of their watch, the 6500 which can be seen in many images from his time in office. This watch is a different version than the above mentioned but just as elegant. The glass is made from a sapphire coated crystal lens with a black silicone strap and is also water resistant up to 100 meters.
Style and Design
The style of the watch has a circular shape and can be used both as a daily time piece as well as for elegant events. Normally we would not advise the use of silicone band on a watch with suits but this definitely breaks the rules. Wearing this with a shirt is definitely advised and can even work well with polo shirts and even t-shirts.
The watch has a bigger face than ones we are used to wearing but nevertheless this is a great looking watch with unique style. The numbers on the face are also large but blend in superbly with the overall design of the watch to make them seem not as prominent.
The watch also has hands which illuminate during the night to ensure that time can be checked at all hours. This is a simple but highly functional and stylish watch. This is not only a great watch to buy for yourself but also for purchasing as a gift for others.
SPECIFICATIONS
| | |
| --- | --- |
| Case Size – mm | 48 mm |
| Case Thickness – mm | 15 mm |
| Case Material | Stainless Steel |
| Case-Bezel Color | Silver |
| Dial Color | Silver |
| Watch Lens | Sapphire Coated |
| Movement | High Precision Japanese Movement |
| Complication | Chronograph |
| Band Type | Integrated Silicone |
| Watch Case Back | Screw down |
| Water Resistance | 100 meters |
| Gender | Male |
| Clasp | Steel Buckle |
Price
The price tag of this watch is $595 which feels at a great price point in which it is expensive but not too excess to be out of people's range.
Visit the Jorg Gray website today and order your watch today, they have several different models which cover all tastes and are guaranteed with the 2 year warranty.
Jorg Gray aim to create timepieces that people love not only for design but also for quality. Visually striking and bold, Jorg Gray timepieces combine styling, materials and colors for both men and women. Each watch is engineered with precision, attention to detail and respect for tradition.